On Campus
College of Arts and Sciences Department Chairs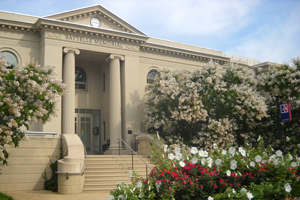 Department chairs play a crucial leadership role in the College of Arts and Sciences. They shape their departments by managing department curricula, developing new programs, and assuring that faculty and students are supported in all aspects of their work. In conjunction with the dean's office, chairs play a crucial role in helping to shape the future direction of the College. 
For the 2011-12 academic year, we welcome four new department chairs: Jeffrey Adler, Fernando Benadon, Albert Cheh, and Pamela Nadell. Profiles of all chairs can be found below. The chairs have given us a quote on what they are hoping to accomplish this year, what is happening in their department, or what they would advise new chairs.


William Leap
Department of Anthropology Chair
Since becoming chair in 2002, William Leap has published three edited books and 17 book chapters, edited two special issues of refereed journals in gender/sexuality studies, and twice won the Ruth Benedict prize for an outstanding edited collection in lesbian/gay anthropology. During the same time period, he chaired eleven PhD dissertation committees and coordinated the annual Lavender Languages and Linguistics Conference and the Public Anthropology Conference—both international conferences held here at AU. His areas of expertise include public anthropology, language, sexuality, ideology and globalization, and lesbian/gay/transgender studies.
"The Department of Anthropology is currently being reinvented, and it is a difficult and challenging time to be department chair here. But the anthropology faculty are using this opportunity to redefine our commitments to social justice—as expressed in our teaching, our research, and in our campus, community and (inter)national projects. The field of anthropology is also changing, and whatever the on-campus outcome, we will use this moment to remain in the front-line of the work of our discipline."


Chemi Montes
Department of Art Chair
Graphic Design Program Director
Chemi Montes joined American University in 1999 and is the Director of the Graphic Design Program. His professional experience encompasses print, video graphics, web and interactive design, and he has worked with a diversity of clients ranging from small businesses and non-profits to Fortune 500 companies. His work has been recognized in a variety of design competitions and juried annual publications and has appeared in several design books and design periodicals, including Communication Arts Design, Graphis book series, Applied Arts, GD USA, The American Graphic Design Awards, How magazine, Step, Creativity International Awards, Print magazine, and the Art Directors Club of Metropolitan Washington. 
"After only one year as chair, it would be presumptuous of me to offer advice to new chairs. All that I hope to accomplish is increased transparency in the way the department is run and when I leave the chair position, leave the department a little easier to handle for the next chair."


David Carlini
Department of Biology Chair
David Carlini conducts research in the fields of molecular evolution and population genetics. Current projects focus on the functional significance of genetic variation in protein coding genes. For example, Carlini and colleagues have demonstrated that "silent" variation in DNA sequences is not neutral and can affect the accuracy and/or efficiency of mRNA translation and mRNA splicing. In another study, they have compared visual proteins (opsins) in surface and cave populations of amphipod crustaceans and have found that, while opsin gene expression is significantly reduced in individuals from the cave populations, levels of natural selection to maintain opsin function are comparable in surface and cave populations. Research findings have been published in the journals Molecular Biology and Evolution, Molecular Ecology, and Genetics, among others.
"For the coming year, I would like our department to build on last year's successes, particularly in regard to extramural grant funding, faculty recruitment, and undergraduate research opportunities."
 
James Girard
Horace S. and May Davidson Isbell Chair in Chemistry
Faculty Senate Chair
James Girard is a specialist in analytical chemistry who has directed research projects used to develop methods to analyze environmental pollutants in soil and water. At AU, he teaches analytical, environmental, and forensic chemistry, as well as chemistry for non-science majors. He is the author of a textbook for environmental and chemistry students, Principles of Environmental Chemistry, and Criminalistics: Forensic Science and Crime, a forensic science textbook. Girard was a Franklin Fellow in 2009, working for the U.S. State Department to coordinate the U.S. report to the United Nations Commission on Sustainable Development.
 

Robert Blecker
Department of Economics Chair
Robert Blecker's research interests include international trade, open economy macroeconomics, the value of the dollar and the U.S. trade deficit, economic integration in North America, the Mexican economy, the limits to export-led growth strategies in developing countries, and U.S. fiscal and trade policies. He has published numerous articles in scholarly journals and edited books, and his teaching fields include international economics, macroeconomics, history of economic thought, and political economy. Blecker was awarded the University Faculty Award for Outstanding Teaching in a Full-time Appointment in 2005.
"For the coming year, I am excited by the prospect of working to design interdisciplinary MA programs related to economic policy issues jointly with other schools at AU including possibly SIS, SPA, and Kogod."

 
Sarah Irvine Belson
School of Education, Teaching, and Health Dean
Sarah Irvine Belson, dean of the School of Education, Teaching, and Health and an associate professor of education, specializes in technology integration, disability studies, and teacher education. Through field-based research, Irvine Belson has successfully worked to integrate technology into educational programs for at-risk K–12 students. Her background in special education provides a knowledge base for development of the types of support that assist educators in adaptively responding to a variety of individual differences in learning strategies among students. Irvine-Belson's publications include a textbook, Integrating Technology into Special Education (Houghton-Mifflin), and "Reflections on the Education Imperative" in Educational Leadership.
"Service as chair gives you the opportunity to support your faculty, your students, and your field. Enjoy getting to know your colleagues and working toward a shared mission for all of the College."

 
Albert Cheh
Department of Environmental Science Chair
Albert Cheh is a professor of environmental science and chemistry. For over twenty years, Cheh conducted research on how the carcinogenic components of cigarette smoke damage DNA and initiate mutations and carcinogenesis. To support this work, he received over $700,000 of grant support from agencies such as NIH and EPA, and he has published his findings in prestigious journals, such as the Journal of Biological Chemistry. His current research focuses on the biochemistry of enzymatic digestion of biomass to produce cellulosic ethanol biofuel. The motivation to conduct research in this area lies in the contribution cellulosic ethanol can make to help ameliorate two global problems – climate change from fossil fuel emissions and the energy security issues many nations face due to the uneven distribution of petroleum reserves – and doing so without diverting food or agricultural land. 
"Energy is the lifeblood of a modern economy; the US and the world are addicted to oil providing the greatest fraction of the energy we use. It's time to reduce the addiction."

 
Pamela Nadell
Department of History Chair
Jewish Studies Program Director
Pamela Nadell holds the Patrick Clendenen Chair in Women's and Gender History. A specialist in American Jewish history and women's history, she teaches a variety of courses in Jewish civilization. In 2007, she received AU's highest faculty award, the Scholar/Teacher of the Year. She is also the recipient of the American Jewish Historical Society's Lee Max Friedman Award for distinguished service. Her books include Women Who Would Be Rabbis: A History of Women's Ordination, 1889-1985 (Beacon Press, 1998), which was a finalist for the National Jewish Book Award. Her most recent work is the co-edited book New Essays in American Jewish History (American Jewish Archives, 2010). 
"Years ago, when I had the tremendous privilege of addressing AU's opening convocation, I spoke of the power of stories, of how telling our stories, the ones we carry from place to place and across our lives, forges, out of a group of strangers, a community. Creating a strong community by sharing our stories in our scholarship, our teaching, and our hallways is my goal for this, my first year as chair of the Department of History."

 
Olga Rojer
Department of Language and Foreign Studies Chair
Olga Rojer's teaching interests include modern German literature and film, literary translation, and Dutch Caribbean studies. Her recent research has emphasized the subaltern literature of the Caribbean Creole language Papiamentu and post colonial literature in Dutch. Rojer received a Pushcart Prize nomination for her translations of the fiction of celebrated Dutch Caribbean author Boeli van Leeuwen. Her most recent books are Founding Fictions of the Dutch Caribbean: Carel de Haseth's Slave and Master (Katibu di Shon) (Peter Lang, 2011) and Founding Fictions of the Dutch Caribbean: Cola Debrot's My Black Sister and Boeli van Leeuwen's A Stranger on Earth (Peter Lang, 2007). Her early research focused on the marginalized literature and politics of the German speaking exile in Argentina. She is the author of Exile in Argentina: 1933-1945 (Peter Lang, 1989). 
"One of my favorite quotes is by American literary critic George Steiner 'All acts of communication are acts of translation.'"
 

Keith Leonard
Department of Literature Chair
Keith Leonard's publications, presentations, and courses have revolved around his study of political consciousness in African American poetry and poetics and in hip-hop culture. His current interests include African Americans artists in Paris, jazz in African American culture, and the conception of love, sexuality, and family as political ideals by black writers. Author of Fettered Genius: The African American Bardic Poet from Slavery to Civil Rights, he is currently working on a book entitled Black Love: Politics and Passion in Contemporary African American Literature.

 
Jeffrey Adler
Department of Mathematics and Statistics Chair
Jeffrey Adler joined American University in 2007. He conducts research mainly in harmonic analysis and representation theory (which can be thought of as the study of symmetry from a formal point of view). Adler led the acquisition of a National Science Foundation grant to facilitate major research with academic institutions around the world. The total grant awarded for the group of institutions was $1.2 million, with AU earning the largest percentage of the grant with more than $500,000. Adler is currently researching the liftings of representations of finite groups (with Joshua Lansky), tamely ramified tori, and division algebras.
"In recent years, more and more of our undergraduates have shown an interest in mathematics or statistics, subjects that are both practical and intellectually exciting. This growth creates opportunities for enhancing the undergraduate experience, and I look forward to making the most of them."

 
Fernando Benadon
Department of Performing Arts Chair
Fernando Benadon oversees the music theory and composition program in the Department of Performing Arts. His research focuses on rhythm cognition and expressive timing, and his own compositions have earned him awards and recognition both nationally and abroad. Recent professional highlights include a Digital Humanities Grant from the National Endowment for the Humanities, an honorable mention from The Village Voice for his debut album Intuitivo, and a Guggenheim Fellowship in music composition. 
"I am working on my first book ("Microtiming & Polyrhythm") and hope to make steady progress on it while simultaneously managing my new duties as department chair!"

 
Amy A.Oliver
Department of Philosophy and Religion Chair

Amy Oliver's teaching and research on Latin America explore cultural and philosophical topics such as marginality, feminism, nepantlismo, and transfronterismo. She has written on the Hispanic essay of ideas and Latin American narrative. Her latest book is Feminist Philosophy in Latin America and Spain. Since 1998, she has been section editor for Latin American thought of various encyclopedias of philosophy published by Routledge. Her professional activities include serving on program advisory committees of the American Philosophical Association (APA) and serving as president of the Society for Iberian and Latin American Thought (SILAT). Professor Oliver teaches courses in the Departments of Philosophy and Religion and Language and Foreign Studies (LFS).

A quote for new chairs: "The only person to have everything done by Friday was Robinson Crusoe."

 
UJ Sofia
Departments of Physics and Computer Science Chair
Associate Dean of Research

Astrophysicist UJ Sofia is an interstellar dust expert. He has received several fellowships, grants, and honors from NASA. Sofia is one of only about 200 people in the world studying space dust, and his latest research, showing that there is more carbon and sulfur in the dust than previously thought, will be published in the Astrophysical Journal. He receives almost all his data from the Hubble Space Telescope, which captures highly detailed images of light from stars. Sofia is also working on a new project in which he will attempt to measure the sun's size and energy variation over time. He is receiving research funding through the Goddard Planetary Heliophysics Institute, which is a cooperative agreement among UMBC, UMCP, AU and NASA. The Institute should bring AU about $100,000 each year for the next 5 years. His data for these studies come from the Solar Disk Sextant, a science-balloon payload that will fly again in October, and the French PICARD satellite.
"Computer Science and Physics moved to the Sports Center Annex (SCAN) over the summer. Our square footage is down to only 75% of that we had in McKinley, so we made a strategic hire. Our new tenure line in physics is filled by a gravitational wave expert. Gravitational waves distort space, so we're hoping that he can increase our departments' square footage. The downside for everyone else is that time will also be affected... so if the semester seems to be moving along more slowly than the summer, it may be our fault."

 
Anthony Riley
Department of Psychology Chair

For the past 35 years, Anthony Riley has been involved in scholarly research, focusing primarily on animal models of drug addiction. He has published more than 170 journal articles and book chapters and presented more than 325 papers at national and international research conferences. His laboratory has received funding from the National Science Foundation, the National Institute on Drug Abuse, and the MacArthur Foundation. Riley has been involved in the teaching of a variety of classes, including Psychology as a Natural Science, Drugs and Behavior, Neuropharmacology, and Evolution of Behavior. He received both the Scholar/Teacher of the Year award and the D.C. Professor of the Year award in 2000.

A quote for new chairs: "Enjoy the experience. They should treat it as a way to understand the college and university. Such an attitude makes the periodic craziness palatable and the rewards even better."
 

Kim Blankenship
Department of Sociology Chair

Kim Blankenship is the Director of the Center on Health, Risk, and Society at American University. Blankenship's research and publications focus on race, class, and gender analyses of health, with an emphasis on HIV/AIDS. She has received funding from NIDA, NIMH, CDC, and the Bill & Melinda Gates Foundation. Current research includes a mixed methods study of the implementation and impact of community mobilization interventions for HIV prevention in female sex workers in India and a mixed methods (BMGF), longitudinal study of the impact of criminal justice involvement on HIV related risk of re-entrants and their sexual partners (NIDA).

"We are excited to be welcoming several new faculty members to the Sociology Department this fall and to continuing to build our health focus in the coming year as we undertake two additional searches."