International
IMI Hosts Fulbright Pakistan Seminar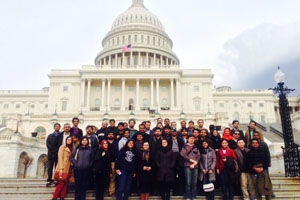 The Intercultural Management Institute (IMI) at American University's School of International Service hosted a Reentry and Social Entrepreneurship seminar for 116 Pakistani Fulbright scholars on March 26. Sponsored by the State Department's Bureau of Educational and Cultural Affairs (ECA) in partnership with the U.S. Educational Foundation in Pakistan and the Institute of International Education, the seminar was designed to prepare participants for their transition home after completing Master's and PhD programs in the United States and to strengthen their understanding of social entrepreneurship and gain relevant skills.
The seminar commenced with statements from Assistant Secretary of State for Educational and Cultural Affairs Evan Ryan and Jalil Abbas Jilani, Ambassador of Pakistan to the United States. A keynote address about the impact of social entrepreneurship on economic development was delivered by Stephen Rasmussen, an expert in entrepreneurship and microfinance in South Asia and Manager of Inclusive Payment Ecosystems for the World Bank-housed Consultative Group to Assist the Poor.
During the four-day workshop, participants learned how to hone skills and coping strategies for navigating the re-entry process and reverse culture shock while also learning about the fundamentals of social entrepreneurship. They visited a number of local DC-area social enterprises and worked in small groups to develop and pitch ideas for social enterprises they could implement back home in Pakistan.
According to participant Qazi Fazli Azeem, the Fulbright program and seminars like this one create both academic linkages and innovative and entrepreneurial partnerships: "Programs like this allow not only the educational linkages that are required because the whole world is a global village; we are so close to each other. We are doing the same things, you know. So why should we do things again and again? We can help each other. We are partners." Participants also noted that the seminar provided them with an opportunity to network with one another and that they felt better prepared for their transition home.
The 2014 Fulbright Pakistan Reentry and Social Entrepreneurship seminar garnered coverage from Voice of America, DiploNEWS, the Associated Press of Pakistan, the Government of Pakistan's Ministry of Information, Broadcasting and National Heritage, Asian Beat News, and the Department of State's Educational and Cultural Affairs website.
The Intercultural Management Institute at American University (IMI) provides customized training for effective communication, negotiation, and leadership across cultures. IMI consults with organizations across sectors and trains personnel to recognize and manage cultural differences, turning them into a competitive advantage. They provide academic courses, workshops, symposia, and conferences covering a wide-range of topics dealing with intercultural relations.