AU Insiders
Museum Full of 'Wonderful Discoveries'
for New Assistant Director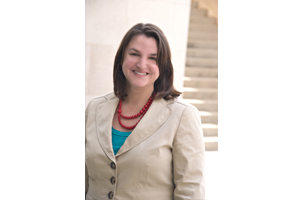 Stefanie Fedor traces her love of art back to Saturdays spent on the National Mall with her family, exploring the Smithsonian's sprawling collection.
"We'd always walk in and discover something wonderful," says Fedor, who grew up in nearby Annapolis, Md.
Today, Fedor doesn't have to venture down to the Mall to take in a beautiful painting or a thought-provoking sculpture. As assistant director of the AU Museum at the Katzen Arts Center, she says she "[walks] past amazing pieces of art every single day."
Being surrounded by one-of-a-kind objects is just one of the joys of Fedor's job. She also works with artists, curators, and volunteers; organizes gallery talks, receptions, and other events; and will soon begin working on the publications that accompany many of the exhibits.
"I wear a lot of hats," says Fedor, who came to AU from Manhattan in June. "Every project is different, and every day is different. That's what makes it fun."
An artist by trade, Fedor earned her bachelor's from the School of the Art Institute of Chicago. However, she soon discovered she was "a lot more interested in other people's studios than I was in my own." Her real passion, she says, was staging an exhibition.
Fedor went on to earn a master's in arts management from New York University where, as a graduate student, she ran two galleries. Fedor looks forward to giving arts students at AU the same "behind-the-scenes look at the museum."
"I really wanted this job because I really wanted to work with students again," she explains. "This museum is such a special place because we can give students hands-on access to everything that goes into an exhibition. It's such a unique opportunity for them."
When she's not at AU, Fedor enjoys knitting, cooking, and spending time with her family and beloved pooch, Little Lovely. She also loves visiting museums in other cities. "Whenever I go to a new city, that's the first thing I look up in the guide book," she laughs.