In the Community
AU Celebrates Launch of Peace Corps Community Archives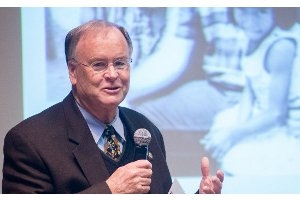 SIS and the AU Alumni Association celebrated the launch of the University Library's Peace Corps community archive with the event "Waging Peace Through a Lifetime of Service " on March 21.

AU community members, either returned Peace Corps volunteers or friends of the organization, spoke about their work in education, foreign service and peacebuilding. They explained how their Peace Corp experience influenced their work.

Tom Lent, SIS/BA '70, CEO of Protecting the Future Alliance, a Washington, D.C.-based, child- protection organization, served in the Peace Corps in Afghanistan from 1973 to 1975. He discussed his initial difficulty in adapting to the country's customs.

"Being in Afghanistan meant that you had to understand the world from an Afghan point of view, not an American one," Lent said. "There were no movie houses, no televisions, and radios were few and far between. Social life was drinking tea and being a guest."

All of the speakers spoke of challenges - acclimating to living arrangements in Malaysia and acquiring adequate healthcare skills in Guatemala - but also of triumphs. SIS professor Ambassador Dane Smith and his wife, Judy, taught square dancing in Ethiopia. Shannon Alston, SIS/MA '14, still corresponds with the teens who were incarcerated when she worked with them in the Dominican Republic.

Dean James Goldgeier linked the goals of the Peace Corps with those of SIS.

"We're very proud of our role as an educational institution that was founded to 'wage peace.' We have many students who come to SIS with that vision in mind," he said, adding that 10 percent of the incoming master's students in fall 2013 will be returned Peace Corps volunteers.

University Librarian Nancy Davenport introduced the archive, which has been in the works for years under University Librarians Emeriti Pat Wand and Bill Mayer.

"Your memorabilia will help to tell the stories," Davenport said. She noted that current archival material includes airplane tickets, letters from home and field diaries.

SIS has recently launched two programs in partnership with the Peace Corps. The first, the Master's International, integrates academics and Peace Corps service for a graduate degree. The second, the Paul D. Coverdell Fellows Program, offers six credit hours of remitted tuition to returned Peace Corps volunteers, who must complete a degree-related internship in an underserved local community. In 2013, the Peace Corps ranked AU second among medium-sized universities for service among graduates.

If you are interested in donating to the University Library's Peace Corps archive, please contact the University Archivist. To watch the event, visit UStream.