Campus News
Neighbors, Friends Gather at Katzen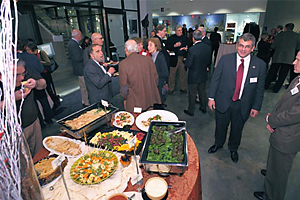 AU's neighbors gathered at the Katzen Arts Center over eggnog and cookies for a holiday reception on Dec. 2 as part of an expanding effort to engage the campus with the surrounding community.
Over 100 people enjoyed holiday treats, a string quartet, and conversation with members of the campus community at the evening event. AU Museum director Jack Rasmussen also led the visitors on a tour of the museum.
The gathering followed the meeting of the AU Neighborhood Liaison Committee, but included other neighbors as well. The committee covers neighborhoods that include Spring Valley, Tenleytown, Westover, and Wesley Heights. Members received a copy of the strategic plan and the Annual Report, were updated on facilities work, and heard about plans for winter break and inauguration.
"It was a nice opportunity for neighbors who may not have been to the Katzen or the museum before to come and enjoy it, as well as to come and meet some university staff," said Penny Pagano, director of community and local government relations. "Everyone had such a nice time, we'd like to do it again."