On Campus
Pop Culture Podcast Ups Eagle's Digital Profile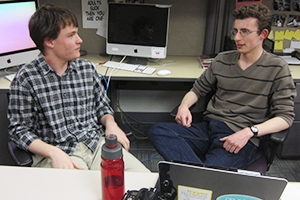 Sophomores Mark Lieberman (SOC) and Devin Mitchell (SPA) talk about current pop culture during "The M&M Report", the first online podcast for American University's student newspaper, The Eagle.
"I was absolutely ecstatic when Mark emailed in early January asking if the 'M&M Report' podcast could come under The Eagle and become [its] podcast," said The Eagle Editor-in-Chief Paige Jones, an SOC senior. The site had been hosted on Lieberman's website Lieberman No Lie since it's launch in September 2013.

The addition is part of a larger trend at the Eagle, which increased its online and digital presence after making a decision in September 2013 to switch from a weekly print newspaper to an online news source. "The M&M Report" adds to this digital profile and is something completely new for the news source, according to Jones.
Lieberman said he hopes the podcast will draw a digital media-savvy audience to The Eagle as well as people who have an interest in pop culture.
"I think it's tremendously important for The Eagle, especially given that our print editions are not as frequent as they used to be. I think podcasts are one way to attract people to consume The Eagle's content in a way they wouldn't have before," Lieberman said.
The student-run online news publication is using other digital media to connect with its audience. Last semester The Eagle introduced online videos and photo galleries to draw readers' attentions, according to Jones.
The Eagle Advisory Board chairman Brett Zongker (SOC/BA '03, MA'04) says The Eagle's has come a long way since he was editor-in-chief.
"The Eagle is far more digitally focused now compared to 11 years ago when I was editor," Zongker said. "Back in 2003, we were focused primarily on printing a newspaper twice a week, and we updated the website once the paper was done. Now The Eagle publishes online first through Facebook, Twitter and its website. The students have the tools and skills to update The Eagle's website as news develops, and they can interact with their audience."
"The student editors are growing their audience again this year with e-mail newsletters, videos, interactive features, social media and real-time breaking news," Zongker said.
SOC Associate Professor and Eagle faculty advisor John Watson knows how important it is for traditional publications to keep their audiences interest and adapt for them.
"There is a possibility, though no guarantee, that the audience will grow or be different. Some people live by podcast and adding that medium to the arsenal may hold current users and attract others," Watson said. "There is no downside to taking this step."