Arts
Culture Warriors: Indigenous Art 'Floors' Viewers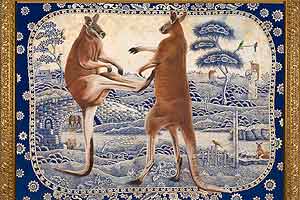 It's the largest exhibit of contemporary Australian indigenous art to travel to the United States, two floors filled with hallucinatory animals in the rust tones of rock art, sacred patterns based on body painting, and the pain and anger of years of oppression, poverty, and loss.
Australian Indigenous Art Triennial: Culture Warriors is the largest exhibit of indigenous art ever to leave Australia. The AU Museum will be its only venue on this side of the ocean.
The show was compiled by the National Gallery of Australia in 2007 to recognize a landmark year that came shamefully late: 1967, when Australia's indigenous people finally won the right to be counted as citizens. AU was approached about hosting the show after an Australian delegation attended one of many diplomatic receptions at the museum and was impressed by the space.
Viewers, though, may be surprised. "People will expect nice decorative things," says museum director Jack Rasmussen. "But there's really great political art here, as well as wonderful traditional things, and the quality is so high. It's the kind of show where art can finally make you understand the humanity of another people."
The people of Australia have been making art for 60,000 years, but this show is not a history of that art or an anthropological study of the first Australians. It reveals how some of the best artists from that tradition—from elders who once lived in the outback to contemporary painters—have been grappling artistically with what it means to be aboriginal in Australia.
Much of the work draws from traditional culture, and sometimes is a part of that culture. Lofty Bardayal Nadjamerrek—the name "Lofty" refers to his once tall, graceful physique—was born around 1925, and grew up camping in rock shelters and learning from his father how to add to the drawings that dot the landscape, some of which may be tens of thousands of years old.
One of the last traditional practitioners of the art, he also paints on bark and paper. His rust-colored images of animals are so full of internal detail they bear a resemblance to stylized X-rays, complete with patterned hearts and sinuous intestines.

Like the other work in the show, his work is contemporary—he is not painting cultural relics—but in his case, there is a clear link to the rugged landscape and oral legends of the past. For many of the younger artists, though, to be aboriginal means to come face-to-face with poverty, social ills, and a history of oppression.

Gordon Hookey's cartoon-like imagery of fighting, swearing, hard-drinking
people—or, sometimes, bottles with limbs—are blunt depictions of an impoverished, alienated urban life.
More quietly, but just as disturbingly, Judy Watson created art using the government files of her grandmother, a "half-caste girl" who had to seek official permission from "the chief protector of Aboriginals" to marry a white man in the 1930s.
"The breadth of the art and social commentary in the Culture Warriors exhibition will challenge perceptions of indigenous art and indigenous culture, as indeed it has in Australia," said Australia's ambassador to the United States, Dennis Richardson.

The ambassador's prediction has proven true. "People are pretty much floored by the show," Rasmussen says. "It's so diverse, such a high quality, and we really don't know Australian aboriginal or indigenous art very well," Rasmussen says. "It's a great opportunity to see this work, which doesn't travel very often, and certainly not in this depth."
Australian Indigenous Art Triennial: Culture Warriors runs through Dec. 6 at the American University Museum.