Arts
Children Make Flags at Katzen to Welcome Dalai Lama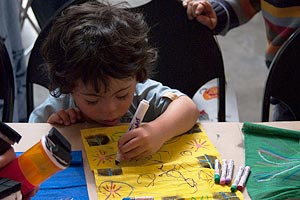 The Tibetan prayer flags created by children at the Katzen Arts Center will greet the Dalai Lama as he speaks at American University on Saturday and fill Bender Arena with good wishes.
Children from around Washington, D.C., learned about Tibetan culture and painted, scribbled, and cartooned their own version of the banners that flutter on houses, shrines, and streets in Tibetan communities. 
"Wishes for the World" was one of several arts projects organized through AU in connection with the visit by the Tibetan Buddhist spiritual leader and president of the Tibetan government in exile. The bright-colored flags, arranged in a traditional strand, will decorate the arena along with "flags of hope" created in Washington, D.C., area schools with teachers mobilized by AU's School of Education, Teaching and Health.
"We want to transform the arena into a magical and positive place filled with good wishes," said art teacher Sharon Hurley. When the flag waves, it's believed that the prayers written on them are carried around the world by the wind.

Not that everyone bought the theory. "If the winds are not blowing," noted Sormeh Jaribion, seven, "then good wishes wouldn't just go around. They'd just stay still on the flag."
She was assured that a breeze was certain to touch the flags, at least at some point.

Hurley asked the children to keep in mind one question: "What would you wish the world, if you had the opportunity?"
A few had quite individualistic answers, such as "Love Your Dog." Others created rainbows and flowers or their own versions of Tibetan symbols.
Joshua Mongardini, nine, explained that on his carefully crafted flag, "olive branches, of course, symbolize peace, and roses are also symbols of peace."
Harrison Wu, nine, whose father, human rights activist Harry Wu, was imprisoned in China for 19 years, once met the Dalai Lama as a small child. The younger Wu wrote a simple message on his flag: "Friends."
A bright sun was the theme of Abby Rawlings' flag. "It means happiness, because when I see the sun, it just makes me happy," said Rawlings, nine.
She and her friend Cornelia Burman, also nine, knew nothing about Tibet or the Dalai Lama when they came to the Katzen, but now "we definitely know a lot more."
The day had another benefit, as well, said Rawlings: "I took every opportunity I could to get messy."