Business
MBAs, Designers, Doctors Create Medical Prototype for Children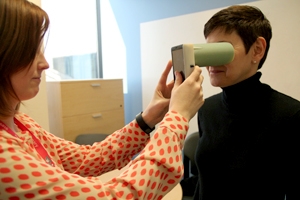 It looks like a children's kaleidoscope: a small plastic tube, fitted to a smartphone. But instead of seeing tumbling bricks of color when you peer inside, this instrument takes a measurement of the viewer's pupil, sending diagnostic information to the phone. Information that doctors will use to diagnose everything from the level of opiates in the bloodstream to a mild concussion.
It's called a pupilometer. The breakthrough device's design, and correlating app, is the result of months of collaboration among Full-time MBA students, students from the International Design Business Management (IDBM) program at Finland's Aalto University, and a team from the Sheikh Zayed Institute for Pediatric Surgical Innovation at Children's Hospital.
Right Brain + Left Brain
Beyond developing a useful tool to aid in diagnosing children, the pupilometer project has provided the opportunity for all involved to stretch beyond professional comfort zones.
For the MBA students, this meant approaching a project from with increased creativity.
"This project has definitely given me a new perspective," said Nick Elefante, MBA '14. "[The Aalto students] really made me realize that a good product isn't just about cost and profit, but [also] about user experience and paying attention to what the customer needs."
While the business students were learning to see beyond spreadsheets, the design students were getting a crash course in more left-brained activities.
"We are going to come away from this experience with a better appreciation for time management," said Alex Rodichev, an IDBM student. "Our friends at Kogod were so efficient in all our dealings with the client and were very respectful of their time and ours."
In addition to two in-person team meetings—one in Helsinki in October and one in D.C. in February—the teams have weekly Skype calls and maintain an internal blog to share progress.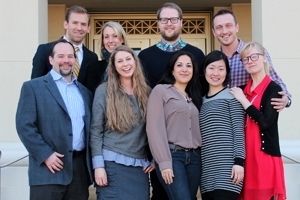 "This process has definitely shown me the importance of keeping detailed documentation of every step of a project," said Nazgol Zand, MBA '14. "The planning goes so much better when we're all able to look at the same notes and reflect on changes together."
"Having the opportunity to work together, in-person, even a little, has made such a difference," said Rodichev. "International communication is easier than ever, but there are still some things that weekly Skype conversations just can't cover."
Good Apples
While MBA students aren't experts in medical device construction—and a designer might not be the most well versed in creating a business plan—together, the three teams created a functional device that will enter the market quickly and be of use to a broader audience.
"It's been a phenomenally fruitful set of partnerships," said Dr. Julia Finkel, the project's medical director and a specialist in pediatric pain management and opioid management.
"By tying together the device design with the business plan development and market strategy, we've been able to cut the project timeline down significantly."
Instead of designing and constructing a prototype in the lab alone, Finkel and Carolyn Cochenour, the lead technician on the project, worked in tandem with the students, soliciting ideas along the way.
"It was really incredible to see the process through the eyes of someone without medical training," said Cochenour. "[Their questions] opened our eyes to a possibility or usability issue that we wouldn't have thought of and allowed us to fix those early in the process."
The Finished Product

While the primary market for the pupilometer will be medical professionals in a hospital setting, it's hoped that the product will also be a useful field diagnostic tool for first responders and medical volunteers with less formal training.
"At its most basic, the pupilometer is a screening tool meant to guide follow-up treatment," Finkel said. "While we're focusing on use in hospitals, its connection to a smartphone means it could be used anywhere, from a high school football field to the scene of a roadside accident."
Determining the best way to get the pupilometer into the market and create a sustainable business plan were the MBA students.
Pending regulatory approval, Finkel and Cochenour expect the device to enter the market within the year. The pair also hopes the collaboration among the schools and hospital will continue.
"Projects like this are an incredible opportunity for our students and our partners," said Mark Clark, Faculty Program Director for the Full-time MBA. "A successful collaboration produces good fruit for all involved and really shows our students what kind of professional partnership to strive for."