Research
Ambassador Akbar Ahmed Debuts The Thistle and the Drone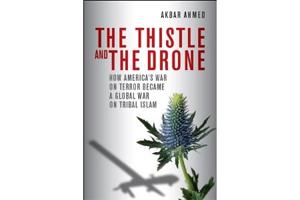 Ambassador Akbar Ahmed, SIS professor and Ibn Khaldun Chair of Islamic Studies, will debut The Thistle and the Drone: How America's War on Terror Became a Global War on Tribal Islam, with October lectures and book signing events in Washington, DC, and Cambridge, England.
The book reveals that these campaigns have exacerbated the already-broken relationship between central governments and the tribal societies on their periphery, according to the Brookings Institution Press catalog.
"I hope that this book will encourage people to rethink the War on Terror paradigm, particularly policy makers, scholars and the media," said Ahmed. "The focus of the book is the longstanding conflict between center and periphery, which seems to have come to a boil following 9/11. We have presented dozens of case studies to show that there is an alternative way to deal with tribal societies."