International
Pakistani Educators Look to School of Communication as Example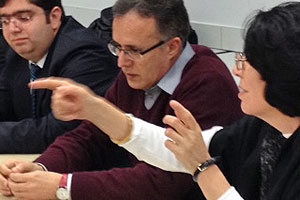 A dozen journalism educators from Pakistan met with International Media students and sat in on a broadcast journalism class at American University in March as part of the International Media Speakers Series coordinated by the School of Communication.
"It is always good to exchange ideas,"said Muhammad Aslam Parvez who heads the Mass Communication program at Gomal University. "I know from other times in the United States there is so much for us to learn here."
The group represented three universities in the Khyber Pakhtunkwa province of Pakistan. U.S. and Pakistani representatives of the non-governmental organization Internews also accompanied the group.
During their visit, the Pakistani educators visited professor Carolyn Brown's broadcasting class and watched her lead her students through the production of the "District Wire News" production, their weekly online television program. The group of Pakistanis also discussed international communication and journalism trends with faculty from the International Media program and students.
"We've been talking about bringing a group like this to the university for almost two years," said Rick Rockwell, Director of the International Media Program. "It is always good for us to provide different perspectives to our students and to show others what our university is teaching students. Pakistan is truly one of the most important countries in Asia right now, so it was great to get them to campus."
"The Pakistani delegation greatly enjoyed their time at American University," said Susan Abbott of Internews. "The chance to sit in on the teaching of the TV broadcast production was a real highlight of their trip to DC," she added, "We had such a lovely exchange."
Internews is an international non-profit organization with a mission to empower local media worldwide and to give people the news and information they need. The International Media program actively works with NGOs, such as Internews, to program interesting exchanges and speakers for students, to provide internships and to add depth to the experience of students in the program.