Research
Advancing Adoption Incentives in Congress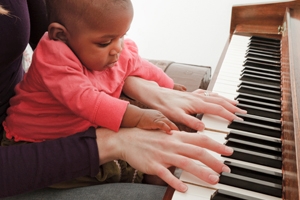 November is National Adoption Month. Despite near universal support for adoption in the United States, academics and activists alike still believe the process can be streamlined and improved.
American University economics professor Mary Eschelbach Hansen has extensively studied adoption, and her research is becoming increasingly relevant. Hansen was part of a team that recently got adoption reform recommendations incorporated into a U.S. Senate bill.
In September, the Removing Barriers to Adoption and Supporting Families Act of 2013 was introduced by Sen. Jay Rockefeller, D-W.Va. and co-sponsored by Sen. Robert Casey, D-Pa. A similar measure that reauthorizes adoption incentives passed the House unanimously in October.
In an edited interview below, Hansen discusses the legislation, her research, and the future of adoption policy.
GS: How did you get Congress to pay attention to this?
Hansen: "It's a group effort. I'm working with a group called Listening to Parents, a nonprofit organization headed by Jeff Katz. We worked with other child welfare advocacy groups to define the goals for the legislation. The Congressional Coalition on Adoption Institute is the lobbying arm that really translated our goals into legislative language."
GS: What's the key part of the legislation?
Hansen: "The goal of what we added to the reauthorization was to reduce the barriers to the placement of children across state lines. In our federal system, there are often some artificial barriers at state lines. When Congress created the adoption incentives program, they rewarded just one state for an adoption. So if you make an adoption across state lines, the state where the adoption occurs is the state that gets all the incentive payment. And the other state gets nothing. In a place like D.C., for example, where a whole lot of child welfare placements are across state lines, that's kind of silly. You would want both jurisdictions to participate. Also, each state has its own standards for studying families. It's called a home study. So this bill also directs Health and Human Services to at least study the possibility of developing a standardized home study."
GS: Why is it so difficult to adopt? Is it harder to adopt a child from another country?
Hansen: "Sometimes it's easier because you're dealing with private agencies. But domestically, these are state bureaucracies. We allow all of these child welfare policies and programs to be run at the state level. And there really hasn't been a huge amount of guidance from HHS on any of these things. States go different ways. Some states devolve even further, granting this power to the counties. And then you have problems with county borders. New York is like that."
GS: The foster care system in the United States has received plenty of criticism. Is the goal to move more kids into permanent homes?
Hansen: "Kids who are adopted do about 50 percent better than the kids who stay in foster care. Permanency makes a big difference because families invest in these children, because they're going to stay with them. In the late 1990s, there were about 25,000 kids a year getting adopted from foster care, and after some of these incentive programs really got going, it about doubled."
GS: Are you hopeful for the future of adoption policy?
Hansen: "Yes. It's going to be clearer that we need to do something for these children, and I think people are going to be ready, willing, and able to do those things. So what we're trying to move against is the sort of policy that says 'nobody wants these kids. We're just going to teach them to live independently.' So for their whole lives, they're not going to have anybody? Who's going to be grandparents to their children?"
GS: How did you end up focusing on adoption? When I think about what economists study, this isn't the first subject area that comes to mind.
Hansen: "Well, economists are generally interested in incentives. But my personal connection with it came in the way a lot of people get involved in these things. We were looking into adopting a child from foster care, and while we were waiting, my husband [University of Mary Washington economics professor Bradley Hansen] and I started reading about adoption policies. As we started encountering this bureaucracy, we started writing about some of the incentives. I published, actually, quite a lot on that topic earlier in my career. But I also wanted to see whether I could make an actual difference in what I viewed as a less than rational law."