Business
Business with Pleasure: Alumna Thrives in South Florida's Luxury Real Estate Market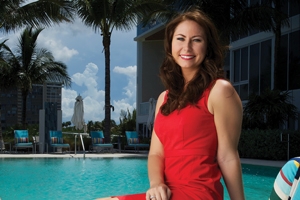 Natalie Poletto, BSBA '09, moved back to her native Palm Beach County two years ago to chase a red hot real estate market. She soon discovered that opportunities to buy and sell luxury properties were as plentiful as the South Florida sunshine.
As one of Sotheby International's top performers, Poletto has a portfolio of more than 40 listings in some of the area's swankiest zip codes, from Miami to Palm Beach. The average asking price: $4 million. Poletto says the South Florida market has rebounded nicely from the 2008 financial crisis, with prices increasing 5 percent.
"The market's in a great place right now. People are moving to the area, and the volume of business is incredible. It's an exciting time to be in this business."
A number-cruncher at heart, Poletto—a partner in a private equity company—says brokerage and development is a seven-day-a-week job. But the Kogod alumna does know how to mix work and play.
"Lots of business in real estate happens through word of mouth, so nurturing relationships is important. Where else but South Florida can you play golf or tennis and call it work?"
This story was originally published in the August 2013 issue of American Magazine.