Business
Alumnus Endowment to Create New Collection at AU Museum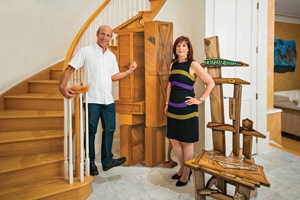 Mitchell Berliner, BSBA '70, and his wife, Debra Moser, share a passion for American craft—artwork created from wood, glass, metal, and textiles. Over the last 40 years, the couple has amassed a noteworthy collection, including works by Dale Chihuly and John Cederquist.
They recently made provisions in their charitable estate plans to leave the collection and an endowment for its care, to the Katzen Arts Center's American University Museum.
"The Katzen is a beautiful arts center and, given our ties to AU and the community, the perfect home for our collection," says Moser.
Their gift will establish the Mitchell Berliner and Debra Moser Collection of American Crafts as part of the AU Museum's permanent collection.
Founders of the Central Farm Markets and MeatCrafters in Montgomery County, Maryland, Berliner, a successful food distributor, and Moser, founding executive of the Metropolitan Center for the Visual Arts in Rockville and former adjunct professor at Kogod, have always been active in the Washington community.
The couple hopes their gift will inspire others to think about how their passions, coupled with careful philanthropic planning, can create a legacy at AU.
This story was originally published in the August 2013 issue of American Magazine.