On Campus
Former Treasury Official Shares Insider View of Financial Crisis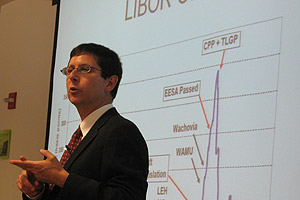 A diverse audience filled a Kogod classroom last week for former Assistant Treasury Secretary of Economic Policy Phillip Swagel's discussion of the financial crisis and his examination of what could have been done differently.
Swagel's lecture, "The Financial Crisis: An Inside View," focused on his time with the Treasury Department from 2006-2009, during the economy's tumultuous decline. Swagel explained the interrelated factors that led to the recession, shared the thoughts of his department at the Treasury during the crisis, and discussed alternative actions that may have led to a different outcomes.  
Housing
"My office did a tremendous amount of analysis on housing," Swagel said. "The root of the crisis was housing."
His office's goals included avoiding "preventable foreclosures," ensuring the flow of capital into the housing market, and minimizing the spillover from housing to the rest of the economy. Enabling "necessary housing corrections" to move forward was required, Swagel said, as some recent foreclosures were unavoidable.
However, he placed the foreclosure crisis in perspective by explaining that of the 80 million homeowners nationwide, only 55 million have mortgages, and only 5.5 million – or 10% of that group – were behind on their payments. This compares to 50% of homeowners who were seriously delinquent on their mortgage payments during the Great Depression.
Politics
The political constraints that professionals at the Treasury had to work with were particularly interesting to Swagel. "As an economist, these were fascinating to me – like a fly on a wall," Swagel said. These constraints limited the solutions that could be proposed to Congress. For example, Swagel suggested that a bigger fiscal stimulus or an earlier deployment of the TARP program in the late spring of 2008 could have prevented some of the economic fallout later that year. However, "you are asking Congress to do extraordinary intervention to divert a crisis that nobody saw yet," Swagel acknowledged.
Swagel suggested that a massive housing bailout in the first half of 2008 also may have prevented the deepening of the recession, "by improving asset performance from the bottom up." But he recognized that while that option may have been less costly than the actual bailout, it would have been "politically very difficult."
Looking forward, Swagel discussed the need for a clear assignment of responsibility for government oversight. Citing a colleague's go-to phrase, "You can't unring a bell," he questioned what will happen the next time an industry seeks a government bailout. "Now, it's tough to say 'We commit not to have bailouts in the future,'" he said.
Co-sponsored by the Kogod School of Business' Department of Finance and Real Estate and the College of Arts and Sciences' Department of Economics, the event was attended by about 50 students, faculty members and colleagues. The lecture was derived from Swagel's paper of the same name, which was published recently .
Swagel is a professor and Director of the Center for Financial Institutions, Policy, and Governance at Georgetown's McDonough School of Business.