Communications
Faculty Tackle Ethics, Entrepreneurship and More at AEJMC 2014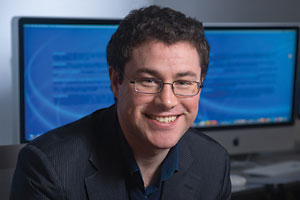 Several of American University's School of Communication faculty members are in Montreal this week for the 2014 convention of the Association for Education in Journalism and Mass Communication, where they will share their own research and engage in discussion and debate with colleagues.
Before the conference officially gets underway, Assistant Professor Deen Freelon will hold a workshop introduction to working with social media data using the Python programming language. It will focus on converting raw data exported from social media APIs into formats suitable for advanced statistical analysis.
As the conference kicks off Wednesday, Assistant Professor Declan Fahy speaks on a panel exploring the ethical and practical considerations that emerge when communicating with the public about research that focuses on controversial science and/or political issues. Meanwhile, professorial lecturer Margot Susca will present "I Kill Czervenians": Adolescent Video Game Users as a Commodity Audience for War. The paper is based on a chapter of her 2012 dissertation, which examined the U.S. Army's use of violent video games for military recruitment. 
In the afternoon, Janis Teruggi Page, who joins SOC faulty this fall, will present her award-winning paper, "Sticking It to Obamacare: The Visual Rhetoric of Affordable Care Act Advertising in Social Media", which won for Best Visual Communication Paper. This is the second year in a row she has received the award. 
As the day wraps up, convention-goers can decide between two engaging panels - one looking back, and one looking ahead - featuring SOC faculty. Professor W. Joseph Campbell and Professor John Watson, SOC Journalism Division Director, will both speak on "Beyond the Mythology of Watergate: Revisiting the Historical Record about Woodward, Bernstein and Deep Throat". The discussion looks at what we have learned over time about the role of the press in the incident and how it impacts our view of events today.
Professor Amy Eisman, Director of Interactive Journalism, joins Associate Professor Angie Chuang to look at new opportunities to increase student engagement on the panel "Teaching in an age of smartphones and smarter apps: Can mobile pedagogy bridge the digital divide and bring more diverse voices into the classroom?" 
Thursday morning, Eisman shares her experience as director of SOC's Media Entrepreneurship MA program at a breakfast hosted by J-Lab, "J-Schools: How to Incubate Media Entrepreneurs". Topics will range from how schools are launching media entrepreneurship courses, programs, master's degrees and professional development programs to how entrepreneurship can be taught.
At the end of the day, Janis Teruggi Page presents a second paper, Media, Racial Representation and the Power of Rhetoric "Richard Sherman Speaks and Almost Breaks the Internet: Race, Media, and Football", this time for the Minorities and Communication Division.