Arts and Culture
Young Singers Raise Voices at
Summer Opera Institute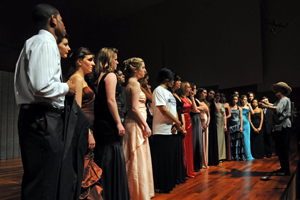 Her lilting soprano is clean and pure as she soars into an Italian aria, but the high-school student on the stage of AU's Abramson Family Recital Hall is doing something wrong. She's so eager to connect with the audience that her neck is stretched forward. It's straining her rich voice, making it just a bit tight, giving it a little less range.

That's not the kind of thing that most people might notice. But this is the Washington National Opera Summer Institute, and the audience consists of fellow students in the opera workshop and a professional singer who specializes in breath control and movement.

A partnership between AU and the Washington National Opera brought the summer institute for 15-to-18-year-olds to the Katzen Arts Center, where AU faculty are among the vocal coaches and musicians working with the talented singers.

The singers will perform opera arias on July 10 and a select group of students will sing at the Kennedy Center on July 11. Students audition for the 34 slots in this year's workshop, coming from around the country, and even as far as Belgium, for the three weeks of master classes, chorus, drama, and specialized courses, such as Italian diction and period movement. They live in the residence halls, where AU music students serve as musical mentors and resident assistants.

This is the first year the opera institute, which is comparable to such famed programs as Interlochen, was held at AU. "We've been very pleased," says Christiane DeVries of the Washington National Opera. "Everybody at AU has been great to work with, and the Katzen Center is just so conducive to this program. It's wonderful. There's ample amount of practice space and the recital hall has great acoustics."

For many students, the pieces they work on during the workshop will become audition pieces for college music programs. The intensive work often takes place on the recital hall stage, performing for their peers with one-on-one feedback and coaching from faculty.

Students will perform opera scenes at 7 p.m. on Friday, July 10, at the Katzen Arts Center's Abramson Family Recital Hall. The event, which is free and open to the public, will include scenes from Verdi's La Traviata and Bernstein's Candide.

The Kennedy Center will also be the setting for a performance of opera scenes by some of the institute's students. The performance will be at 6 p.m. on Saturday, July 11, at the Millennium Stage. It is also free and open to the public. Reservations are not required.