International
Traveling for Denim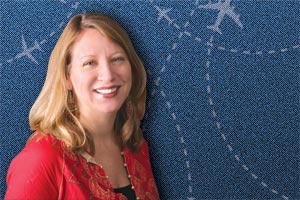 Take a look at the jeans you're wearing. If the label says "Made in Mexico," you might logically assume they were made in Mexico. But when literature professor and radio host Rachel Louise Snyder went on the trail of the pants we wear, it took her around the world: Azerbaijan, Italy, Cambodia, New York City. Much like the global path our jeans take from the cotton fields to our closets.
Snyder comes to AU from Phnom Penh, Cambodia, her home base for six years as she wrote stories for magazines and radio and researched the book on an industry in which "a single foot of thread might contain fibers from farms in Texas, India, Turkey, and Pakistan."
As she followed the denim trail, she met people whose lives are a part of globalization: the seamstress in Cambodia, the cotton grower in Azerbaijan, the New York City designer who is trying to create a line of socially conscious jeans. At its heart, the book tells the human story of globalization—not as a tirade against sweat shops, but as a nuanced and often startling report of the way lives are bound together with goods.
The longtime global freelancer has written for the world's top magazines (a small list: Slate, Salon, Redbook, New Republic, New York Times Magazine) and is a regular voice on PRI's This American Life, APM's Marketplace, and the NPR shows Morning Edition and All Things Considered.
In a new radio show, The Global Guru -- which airs on National Public Radio stations around the country and American University's WAMU in Washington, D.C. (88.5 FM) -- she gives two-minute answers to questions such as "How do Ethiopians use butter?" and "How do you track a Tasmanian devil in the wild?"
At AU, the global guru is a professor of creative nonfiction and literary journalism in the Department of Literature, College of Arts and Sciences. "I love it when poets come and say, 'Nonfiction isn't really my thing,'" she says. "I try to win them over."
She shared some thoughts with American magazine on her book, her writing, and the difference it has made for her to live and work abroad.

Q. How did the idea for the book come about?
I learned Cambodia was the only Third World country that had negotiated a trade deal, under the Clinton administration, to eradicate sweat shops in exchange for trade advantages. I got even more interested when Cambodia joined the World Trade Organization and under WTO had to get rid of that trade incentive. So the question became, Gosh, will they survive? And if they won't, what does it say?

Q. The garment trade is a complicated web, yet you were able to tell it through personal stories spread across the world. How did you find those stories?
I found the country first. I wanted it to be emblematic of a struggle, and the people in the country to be narratives of that struggle. I wanted to show how Bono could be connected to a seamstress in Cambodia. I often started with places where I had friends. In Azerbaijan, I had friends who lived there, and one thing would lead to another.

Q. The book shows how hard it is to produce a pair of socially conscious jeans. After what you've learned, do you try to be socially conscious when you buy jeans?
I do, but more importantly, I try to define the difference between want and need. I don't need more than one or two pairs of jeans.

Q. You lived in Cambodia while writing the book. Why did you choose to live abroad for an extensive time? Did it make a difference to base yourself abroad rather than traveling for work?
I'd lived in London, I had traveled a lot, and I'd started to do thematic long trips, so I'd go away for two to three months. But I got to a point where I realized traveling gives one sort of specific kind of experience, and I was only going to repeat that experience again and again if I just kept traveling somewhere but didn't have to actually negotiate a life.
When you just travel, you are always dancing around the periphery. You're not forced to negotiate things that are extremely difficult to negotiate. When you're living somewhere, you have to have electricity, you have to figure out how to get a driver's license, you're forced into situations where you have to have a little humility—which is very hard for someone from an individualistic culture—and you have to see your own shortcomings in ways you don't otherwise. When you see how people confront problems in other places, it gives you a context for ways you confront problems yourself, and in your own country.

Q. Has travel influenced or changed your understanding of yourself?
I feel like you don't actually know what parts of you are from your culture until you can define your culture, and I feel you can't define your culture until you can parallel it or juxtapose it to other cultures. I think you can only get that from travel—from on-the-ground experience.
Q. What does writing fulfill for you?
It calms me down. It's exactly what I hope for my students—a place to go to think about things, a way to stop and take a deep breath and define the world and the way we see it.

Q. How do you see your role as a professor?
Not everybody is going to go on to be a professional writer. But if I can create for them a place for self-discovery, I see that as my role—to guide them to a place where writing fulfills them.