Arts
Bobby McFerrin Makes AU Audience Happy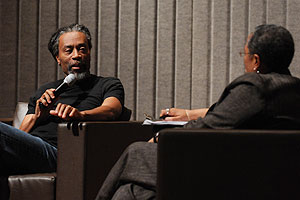 In all his 32 years, Michael Estler never received a birthday serenade like this one.
Sitting in the Abramson Family Recital Hall on March 17, the American University audio production major wore the aw-shucks grin of a star-struck seven-year-old as one of his musical idols, the incomparable Bobby McFerrin, belted out what surely had to be among the most soulful renditions of "Happy Birthday" ever.
It was just one magnificent moment during a day full of them at the latest installation of American University's Arts 360, a College of Arts and Sciences initiative that explores global transformations through the arts.
One of the world's best-known vocal innovators and improvisers, McFerrin shared the joy so clearly evident in his music with the audience of Washington high school students and AU community members during a lively workshop and interview with Department of Performing Arts cochair Caleen Sinnette Jennings.
Standing alone on stage, as he often does when he performs throughout the world, McFerrin discussed his philosophies of music, life, and art while peppering in spontaneous bursts of song. With no band behind him or instrument in his hand, McFerrin uses his body, mind, and spirit to make music.

"For me performance doesn't really exist," said McFerrin, whose recordings have sold more than 20 million copies. "When I walk on stage to sing it's not the most important time of my day, it's part of my day. I don't have 18-wheel trucks driving up to the arena, I don't have costume changes, I don't have smoke shows. I'm not putting those things down, that's just not me. Music to me is here, now, and always different."
That's evident to anyone who has followed his remarkable career. The son of opera-singer parents (his father, Robert Sr., was the first African American male soloist at the Metropolitan Opera), McFerrin formed his first group when he was 14. He primarily was a pianist until July 11, 1977, around noon, the precise moment when he decided to become a singer. His first gig was at a piano bar in Utah playing "the attitude adjustment hour" from 4 to 7 p.m.
"I ran into some tough times, I had some serious moments of doubt," he said. "My goal never was to be a famous vocalist. My goal was to be a working musician, because I enjoyed it."
McFerrin wasn't an overnight success. He spent years honing his style, and made sure to stress to the young musicians in the audience that success does not come easily for most.
"If you're not a dedicated artist, you're not an artist," he said. "You can't break them apart. The audience will know whether you respect yourself."
McFerrin won his first Grammy in 1985, and then exploded into international superstardom with the 1988 release of "Don't Worry, Be Happy," which hit No. 1 on pop charts around the world.
Instead of cashing in on his commercial success, he took an 18-month sabbatical and embarked down new musical paths. He began studying classical music and developing his love of improvisational singing.

"There is something that everyone misses about improv. Improv is motion," McFerrin said. "Improv to me is something that will never happen again. Ever. Which is incredibly beautiful."
In 1994 McFerrin became creative director of the St. Paul Chamber Orchestra, and since then he's conducted the Chicago Symphony, Cleveland Orchestra, and New York and Vienna philharmonics.
Yet on stage at the Katzen Arts Center, he displayed no ego. Instead, he offered words of encouragement to budding young artists, and as is his staple, transformed the audience from passive observers to active participants.
"I always felt as an audience member that I wanted to do more than just listen," he said. "I have never done a performance where the audience was not ready to sing."
Lori Williams certainly was. A vocal music teacher at Woodrow Wilson High School, Williams accepted McFerrin's spur-of-the-moment offer to perform and nailed a heartfelt rendition of "Autumn Leaves," with McFerrin harmonizing.
At the conclusion of his interview with Jennings, McFerrin began singing the "Mickey Mouse Club Theme Song," and quickly was joined by everyone in the house.
"It was joyful for me to sing with you," he said looking out at the audience of smiling faces, at this moment, musicians all.