Business
Kogod Network 2014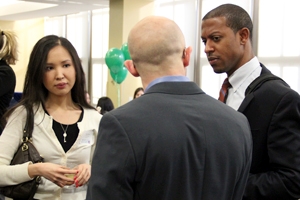 The annual Kogod Network, the largest networking event of the year for the full Kogod community, took place on Wednesday, April 2, hosted by the Kogod Center for Career Development (KCCD).
More than 90 students participated in mock interviews with 25 interviewers, a combination of campus recruiters, alumni, and friends of the school. For the first time, interviews were conducted via Skype and telephone as well.
Kogod Network 2014 from Kogod School of Business on Vimeo.
At a reception following the interviews, approximately 200 current undergraduate and graduate students, alumni, and other members of the Kogod community mingled to discuss their roles in business.
"Kogod Network is the epitome of what we as a business school community are all about: building relationships," said Arlene Hill, director of the KCCD. "This is the only event we have where all of the Kogod community—students, alumni, faculty, and staff—come together to reconnect and meet new people."