On Campus
Commencement 2010 Speakers Announced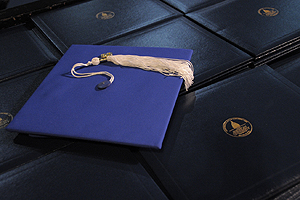 More than 2,500 graduates at American University will hear speeches from the first female president of Chile, three dedicated public servants, an entrepreneur and an Academy–Award winning filmmaker at AU's 124th main commencement ceremonies on May 8 and 9, followed by the law school ceremony on May 23.

Michelle Bachelet, the first female president of Chile whose term as president ended on March 11, 2010, will speak at the School of International Service ceremony at 4:30 p.m. May 8.  A tireless supporter of democracy and human rights in Chile, Bachelet will address graduates who will embark on careers in international relations, diplomacy, human rights, and peace and conflict resolution. Bachelet will receive an honorary doctor of international affairs.

The first female attorney general of Arizona, former governor of Arizona and current secretary of homeland security, Janet Napolitano, will address graduates of the College of Arts and Sciences at 1 p.m. May 9. As secretary, Napolitano is building the skills and resources within the Department of Homeland Security by deploying the best that science and technology have to offer. This approach will resonate with the graduates of the arts, sciences and humanities. Napolitano will receive an honorary doctorate of public service.    

Distinguished public servant and educator, Donna E. Shalala will speak to the graduates of the School of Public Affairs at 9 a.m. May 9. Shalala, president of the University of Miami, will return to American University where she was a student in the Washington Semester program.  She was also President Clinton's secretary of health and human services. Her years of government service experience combined with her current role as a scholar-teacher will provide graduates of the School of Public Affairs an insider's view on education, policy, and government. Shalala will receive an honorary doctorate in public service.

Cofounder, President and TeaEO of Honest Tea, Seth Goldman, will address graduates of the Kogod School of Business at 1 p.m. May 8.  The entrepreneur's strong advocacy for sustainable farming practices, Fair Trade practices, and corporate social responsibility align with the business school's focus on today's global business environment.  Goldman will receive an honorary doctor of laws degree.

A two-time Academy–Award winning filmmaker, Barbara Kopple will speak to students graduating from the School of Communication at 9 a.m. May 8. Kopple's Harlan County USA and American Dream won the Academy Award for Best Documentary Feature. She serves as an advisory board member for the School of Communication's Center for Social Media. Kopple will receive a doctor of humane letters.  

Graduates of the Washington College of Law will hear from the Honorable Eric H. Holder, Jr., attorney general of the United States. Holder is the first African American to serve as the attorney general. He also served as the deputy attorney general and United States attorney during the Clinton administration. Holder began his federal career when he joined the Department of Justice as part of the Attorney General's honors program. He was nominated by President Reagan to become an associate judge of the Superior Court of the District of Columbia.  The Attorney General will receive an honorary doctor of laws degree at the ceremony on May 23.

In addition to conferring honorary degrees, American University President Neil Kerwin will bestow the President's Award, the highest award for undergraduate students, to a graduating senior who has displayed a longstanding commitment to building community and promoting AU's ideals of academic achievement, integrity, selflessness, leadership, and service. At the May 23 ceremony the university will recognize Andrew Popper, professor of law, as the Scholar-Teacher of the Year.  

More than 2,000 students will participate in commencement events on Saturday, May 8, and Sunday, May 9, in American University's Bender Arena.  It is a longstanding tradition for American University to hold graduation ceremonies on Mother's Day weekend. Two weeks later, on Sunday, May 23, at 1 p.m., 500 students will participate in the Washington College of Law's graduation ceremony, also held in Bender Arena.