Alumni
Scholarship Gives Student a Home Away from Home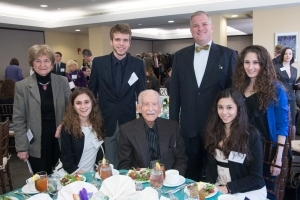 When Yagmur Erten, CAS '16, applied to go to college, she wanted to study in the United States along with her sisters, but didn't know if it would be possible. The news of a scholarship offer from American University provided the answer to her dream.

"I still can remember the day that I got the email telling me I was accepted to AU with a scholarship, and it put tears in my eyes," Erten told an audience of 200 scholarship donors and recipients at the 2013 Celebration of Scholarships luncheon on March 20.

The luncheon, held every spring, provides scholarship recipients the opportunity to express their gratitude to the generous supporters who help make their educations possible, while donors are able to connect with the extraordinary students who inspire their philanthropy. President Neil Kerwin, Gail Hanson, vice president of Campus Life, and Thomas J. Minar, vice president of Development and Alumni Relations, all welcomed guests and underscored the importance of donor-funded scholarships. The AU Chamber Singers capped off the afternoon with a beautiful performance.
PHOTOS: View photo highlights of Celebration of Scholarships.

Erten is the 2012-2013 recipient of the Hursit Calika Scholarship, which supports AU students who are, preferably, from Turkey. The scholarship was founded by Mr. O. Hursit Calika in 2001 to support students from his home country, and in honor of his two grandsons who attended AU. Mr. Calika was also in attendance, and his daughter Nur Calika made remarks on his behalf.

"We have gotten so much back from the scholarship. They have brought us so much joy and really touched us," said Calika.

The Calikas' support has inspired Erten to make the most of her opportunities at AU, including acting as an ambassador to prospective international students through the American University Diplomats . However, the impact of their relationship has extended beyond her academic life. "They are giving us the warmth of our home, while very far away from home," Erten remarked.

While the bond between Erten and the Calikas is quite unique, there are many stories of generosity that have profoundly affected students. Since May 1, 2010, AU has raised more than $6.6 million in endowed and current use scholarship funds, and in this year alone, approximately 500 students were beneficiaries of donor-funded scholarships, fellowships, and awards.

Scholarship funds provide resources that help change the lives of AU students, making tuition assistance available based on both need and merit. By removing financial barriers, they allow AU to attract and retain the most qualified and diverse student body. American University remains focused on supporting the next generation of leaders, and generous scholarship donors help ensure that AU achieves this goal.