Arts
Masters of Art: Graduates Reflect on Becoming Artists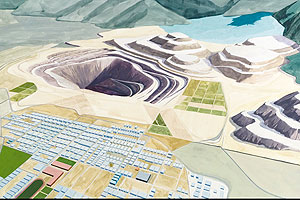 Think of graduate school, and long hours in the library come to mind. Graduate students, after all, are learning to be scholars—to absorb the work of past scholars, to create independent and distinctive work of their own. The thesis is the culmination of all that work.
But what about art students? They, too, have a thesis that evolves during their years of graduate study. Instead of being handed in quietly to a professor, though, it's visible for all to see. Some of AU's MFA thesis students, who displayed their work in the weeks before commencement at the AU Museum, describe the program and share how their work is intricately linked to their experience of academic exploration.
Rachel Sitkin 
Rachel Sitkin had been working on set design and painting for television shows such as The Wire and movies such as He's Just Not That Into You. She was making a living, but didn't feel challenged. AU was a catalyst for change.
"I don't think an MFA is different from master's in other fields. Part of a graduate program, regardless of your academic pursuit, is learning to be critical of your own work, to contextualize it within the larger field, and be able to see how you fit into that construct. 
"The first two semesters are about tossing around ideas, doing research, and experimenting with different techniques, so that you're able to technically create the images or objects that tell the story you want to tell.
"By the end of the first year, hopefully you have come to some conclusion about what you want to say and how you think you want to say it. You get feedback from a lot of people. First and foremost art is a dialogue; a form of communication . . .
"There is definitely research involved. A large component is art history. I was thinking a lot about relationships between humans and the landscape, [and] began looking to [nineteenth-century American painters] and the idea of manifest destiny, the idea of ownership over the land and the sublime landscape.
"Initially, my work was figurative, with the figure as Everyman . . . but it became apparent that it was easier to get across this idea if, instead of specific figures, I was depicting patterns that men create in the landscape. I began focusing on mines as a metaphor for our contemporary relationship to landscape, our dependence on landscape, and our manipulation and possibly degradation of the landscape. I received a Mellon Grant and visited mountaintop removal mining in West Virginia and copper mines in Arizona—sketching, taking photographs, creating material to work from in my studio.
"I feel like I've learned to generate new ideas and generate new work in a more confident way than I ever could before, which leaves me feeling confident moving forward."
Brendan Loper
Anacostia Hoover Shack, Brendan Loper's painted construction, was a big departure for the painter, who initially expected to work on canvas. It was inspired by historical research into the 1932 march on Washington by unemployed World War I veterans who camped by the Anacostia in a shanty town demanding that the government make good on its promises.
"I painted pictures of this scene, but I really needed to create a space. That's one of the reasons I needed to build it. In the photographs, you could see that people's shacks were representative of their identity. They were homes, and treated like that. They didn't know how long they were going to be there; they were willing to do whatever it took.
"I started with that idea and that struggle, and paired it with another idea—artifice and facade. I've been borrowing a wood graining technique (from my eighteenth-century German immigrant heritage), painting wood grain on objects to make them look fancy. It's a facade, and it speaks about a social class structure. So I employed that technique to create a piece that said something about social strata in a way that appeared playful, but in fact was not. It says something kind of dark. So it's historical as a primary idea, but then it also revolves around ideas of making—because it's not a real shack. It's a facade.
"If I hadn't been here I don't know if I'd have had the inclination to look at my paintings and say, 'Hey, I need to do this other thing.' The program here really pushes you. Ultimately it's about being self-critical."
Annette Isham
How can remote control cars that project images of mouths and sounds of laughter serve as an expression of two years of study? Isham's Remote Control Flirt can be seen in action on YouTube.
"When I came in, I thought I wanted to deal with reflection and color. As an undergraduate, I would do paintings about a glass of water, real subtleties . . . But in graduate school, I got into color theory. If you put a green light on something, the shadow will be red . . . So to study all this, I made up my own lamps. To make them moveable, I'd make aluminum structures . . . I wanted to be able to show how, when the light moves, it absorbs the object and changes things. So I started to use remote control cars to make the light move . . .
"What I'm after is perception—how you take everyday phenomena and categorize them and break that down a little bit. If I look down a hallway and see yellow, will I think it's closer than if I look at the same hallway with blue lighting? I was interested in the actual perception of the brain, and that grew into more of a psychological questioning of perception. I'm questioning the media, language, dating, why you need to be adventurous to find love. In the end, I'm interested in perception and identity."
Yumi Hogan
Hogan's grown daughters, one of whom is already a lawyer, came to commencement to celebrate their mother's realization of her long dream to become an artist.
"I was thinking of my heritage, of growing up in South Korea and being more Western culture now. So my work is memories, land, branches, weeds, and Korean dresses—the way that, when they are hanging, how the lines go.
"I did a lot of study about Korean and Chinese brushwork. I ended up totally changing my material. I ordered hanji paper from Korea—it's from a mulberry tree, very silky. I ordered Korean pigment powder. All of the feedback and the ideas from my professors and the other students got me thinking all the time.
"I thought a lot about nature and why it is important to me. Nature is like a circle of life. When you see the weather outside, water is a calm thing, but when it's windy, water is moving. We cannot control that. It is similar to life.
"Now I have a very clear direction for my future. I tell my daughters, 'It's mom's time now!'"