Social Sciences
Gender Scholars Tackle LGBTQ Issues in 'Safe Space'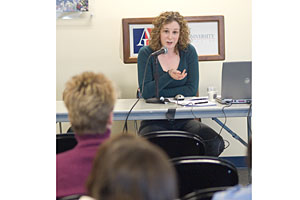 Seventeen years ago, William Leap set out to create a safe space for gender scholars and linguists to chat and collaborate. Today, the anthropology professor's Lavender Languages and Linguistics Conference is the longest running LGBTQ studies event in North America.
"This was a group of people who really needed reinforcement because they couldn't get it in their departments," said Leap of the conference's beginnings. "It was a chance us to get together and not feel like pariahs."
Hosted in conjunction with the 1993 march on Washington for gay and lesbian rights, the first Lavender Languages and Linguistics Conference drew 100 scholars to American University. What began as a forum to "trade theory" has evolved into a more analytically sophisticated conference focused on the pressing political issues of the day.
"In the late '90s, the conference took a political turn," Leap recalled. "People started wanting to connect the conference to the gay marriage debate, to the 'don't ask, don't tell' struggle, and to questions of adoption. All of these issues are about language use —what you call 'family,' for example.
"All of a sudden, we started seeing more papers about the application of theory to real life."
Lavender scholars are still bringing new insights to political questions surrounding same-sex marriage.
"People have taken what they've learned back to their home states and used it in their work with campaigns," said Leap of conference participants, who come from across the country and from as far away as Norway and Nigeria.
Of all the twists and turns Lavender Languages and Linguistics has taken, however, Leap said one of the most important has been the influx of talented, engaged young people.
"We're seeing undergrads with papers that are every bit as sophisticated as the work of senior scholars," Leap said. "We're starting to see three generations of scholars coming together — that's exciting."
Leap has always fostered a "non-attitude environment." Academic conferences can be pretentious and stuffy, he said, and "one of the things we work very hard to do is make sure that everyone feels welcome."
"No one at the conference is so important that they can't sit down and talk with an undergrad over coffee. When I was a younger scholar, you could never talk to the senior people. So it's very important to me that students have the opportunity to bond with the more experienced folks."
About 150 faculty, researchers, students, and activists are expected to turn out for the 17th annual conference, April 16–17 at AU. The program — one of biggest ever — will feature more than 60 presentations and workshops.
As he prepares for this month's events and thinks back on the conference's evolution, Leap is particularly proud of the impact it's had on AU's anthropology department and the university as a whole.
"It's opened up what we do and established us as a place where people can examine gender and sexuality," he said. "I'm very proud of the fact that the conference is still at AU after all these years. Not a lot of schools would do this."