Arts
Snider Searches for the Perfect Sound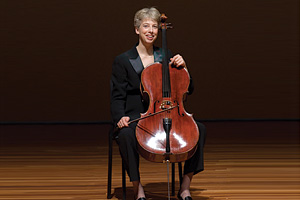 A stringless cello sits atop the piano in Nancy Snider's Katzen Arts Center office.
It is, Snider jokes, "the only cello with a perfect sound."
Snider is more than just director of the music program in American University's Department of Performing Arts; she's more than just a teacher once honored as AU's outstanding adjunct; and she's more than just a talented cello player.
The sum of those parts adds up to a whole musician, and her pursuit of the elusive flawless note drives her to improve—and seek improvement in her students—every day.
"I'm really interested in building more than just practitioners on instruments," she said. "I'm trying to help students become total musicians. Musician to me is like calling somebody rabbi or something—it's a high moniker. To be a musician isn't about just playing your instrument well, it's about being a good colleague, being a team member, being a leader when you're called upon to lead."
The past year was one of Snider's most gratifying creatively. In addition to playing cello with the Washington Bach Consort and other ensembles, she regularly performs with Opera Lafayette, a period instrument ensemble dedicated to performances of seventeenth- and eighteenth-century operas, particularly the French repertoire. In February the group will perform at the Opéra Royal in Versailles.
But her most fascinating recent project is her stunning collaboration with Mirenka Cechova, a Czech actor, director, and choreographer who specializes in physical theatre, mime, and movement.
"It was life changing," Snider said of playing music for Cechova's one-woman play, . "I have an amp; I do improv. It's been really outside my box. Working with someone who's a performance artist who's challenging me to do things differently, who's bringing me into a theatre culture instead of a music culture, it's the hardest thing I've ever done. But it's the most rewarding thing I've ever done."
Originally a trumpet player, Snider usually was situated in the back of the orchestra.
"Every time there was a beautiful melody I would look up and it would be the cello section," she said.
The instrument quickly became the centerpiece of her life. Eleven years ago she began teaching it to students at AU.
"Being an artist is what you are, it's not what you do," she said. "I can be the tripartite me in this job. I can be the teacher; I can be the cello player; and I can be the administrator. These three things are what I do well, and to be able to do them well all in one place is a privilege and a blessing."
Rounding out her dream year, Snider recently performed with country star Trisha Yearwood during a USO show, a gig she called a blast.
Somehow Snider remains squarely focused on her students, the quality of which she said has improved "across-the-board," during her time at AU.
"It's all about getting them to their appropriate next step," she said. "I'm not trying to fast track anyone. My overriding philosophy when it comes to teaching is to really give them the strong foundation that they need to build on. If they have that they can go anywhere."
It's quite a life. While Snider may not yet have played a cello whose sound equals the ideal in her mind, she's certainly not going to stop trying.
"Somehow it's in me to do it," she said. "Whether it's dormant or active, it doesn't matter. It's who I am."