Research
AU Historian Follows War Criminals' Paper Trail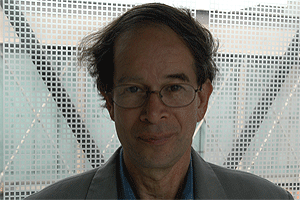 When Richard Breitman and his fellow historians published U.S. Intelligence and the Nazis, a book based on millions of documents they helped declassify and analyze as a result of the 1998 Nazi War Crimes Disclosure Act, they thought their work was done.
But after publication of their initial report and the subsequent book based on those documents, new material from the CIA became available. In addition, some Army materials, previously all but inaccessible because they were stored on an obsolete system of optical disks, came into play after Congress appropriated funds for technical experts to access them.
So Breitman and Norman J. W. Goda, two of the four historians who were part of the small government organization created to implement the 1998 act, the Nazi War Criminal and Imperial Japanese Records Interagency Working Group (IWG), went back to work. The result of their efforts is a new report, Hitler's Shadow: Nazi War Criminals, U.S. Intelligence, and the Cold War, which is scheduled to be published this week by the Government Printing Office. The report is also available online at www.archives.gov/iwg/reports/hitlers-shadow.pdf. Breitman discussed the monumental task of declassifying and analyzing vast troves of documents, and he shared his perspective on the controversial release of secret U.S. government cables by WikiLeaks.

Q: How do you approach such a monumental task without spending several lifetimes poring over documents?

Breitman: Well, I looked at pretty much all of the 1.2 million pages of OSS [Office of Strategic Services, predecessor of the CIA] records, and beyond that I was selective once I had gone through and copied documents that I thought I could use. Then I began to look selectively elsewhere for related material. And there was lots of good stuff in unexpected places. Nobody thinks of the FBI as being terribly concerned with Nazi activities. But the FBI records had all kinds of good stuff, partly because MI5, the British counterpart of the FBI, passed the FBI a lot of British records . . . The CIA wasn't established until 1947, but when you got into the question of what happened to suspected war criminals the CIA became relevant [because] it had relationships with specific individuals . . . [or] was interested in tracking specific individuals.

Q: Are these documents difficult to interpret?

Breitman: Some documents are straightforward; other documents are very opaque unless you know a lot about both the subject and the agency. We had a lot of trouble with some of the early CIA records because there were code names for individuals; there were code names for operations. The agency said it had to redact [certain things] for security reasons, but we couldn't figure out the sense of it and if the redaction ended up protecting somebody who was a suspected war criminal [we disputed it].Ultimately after 2005 the CIA decided to be very cooperative. We got a lexicon of code names from the CIA and that made it a lot easier to figure out who was who.

Q: What trend do you see in government openness to declassifying records?

Breitman: If you're talking about recent documents, I don't think things are going to get looser any time soon. If you're talking about older documents, that's an interesting discussion. Every Democratic administration has come out with statements and sometimes executive orders that are supposed to make it easier to declassify older documents for historical purposes. And in fact President Clinton had released an executive order . . . that was supposed to declassify the kinds of OSS documents that we later declassified. Well, for every one or two that they declassified, there were four or five that they said keep classified. All of these executive orders have loopholes. . . . When you let the agencies interpret those loopholes, then you get a lot of material, even very old material, kept classified. When you impose a new authority and give it some teeth and give it the right to appeal to Congress, then you get a different level of declassification.

Q: As an historian, you must be very interested in developments involving the WikiLeaks release of classified documents?

Breitman: Certainly. [WikiLeaks is] getting out material that people studying recent events will feast on. And yes, there's some relatively sensitive stuff in there, although if you're a good reader of major newspapers, this is not shockingly new material. It's just the behind-the-scenes details [about] who said what when and which foreign governments agree with us, we think, and which ones don't agree. [Of course,] the State Department has a historical office, and they're supposed to select critical foreign policy documents and declassify them and publish them on a schedule roughly up to 30 years ago. Well, the last volume of Foreign Relations of the United States, a State Department collection, is at 1972. So here you get somebody who's doing this from a few years ago, and it's a new source for people. It is going to do some damage to American ability to conduct confidential discussions abroad, but it's also a window into what is really happening, and you have to kind of balance the benefits against the damage.