Achievements
AU's Commitment to Sustainability Getting Widespread Notice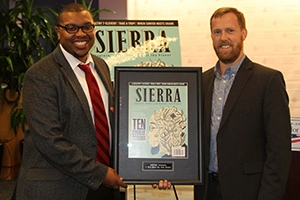 Awareness of the leadership and innovation that American University has shown in its commitment to sustainability is no longer just confined to its campus. Now, others outside the AU community are taking note of the university's efforts and successes in the pursuit of maintaining clean air, safe water, and beautiful landscapes for future generations. Just within the last month, AU's dedication to environmentally-friendly practices has earned it mentions in both The Princeton Review and Sierra magazine. Also, the Sustainable Sites Initiative (SITES) recognized the landscape project that surrounds AU's School of International Service (SIS) building for its eco-friendly design.
Green Honor Roll
The Princeton Review announced its sixth annual "Green Ratings" recently, and once again placed American University on its 2014 Green Honor Roll. For the third year in a row, AU attained the highest possible score on a scale of 60 to 99. Of the 832 institutions tallied for their environmental practices, policies, and academic offerings, only 22 received the highest possible score.
AU's Director of Sustainability, Chris O'Brien commented on the growing student interest in sustainability, "According to the Princeton Review's annual survey, the majority of prospective students consider sustainability when they choose a school, so AU's inclusion in the Green Honor Role reflects the university's desire to serve the interests of our students."
Coolest Schools
The Sierra Club's Sierra magazine named AU as one of their "Coolest Schools" for 2013. AU placed ninth in Sierra's seventh-annual ranking of America's greenest and most forward-thinking colleges and universities that are helping to solve climate problems and make significant efforts to operate sustainably. In particular, Sierra highlighted AU's campus-wide composting program as an example of a school taking dramatic steps to help protect the planet and its resources.
SITES Certification
The SIS grounds earned two stars in a four-star rating scale from SITES, making the school's grounds one of only 23 sites worldwide to earn a SITES certification, the nation's most comprehensive rating system for the sustainable design, construction, and maintenance of built landscapes. The SITES certification highlighted the SIS building's LEED Gold status, its use of plants that do not require irrigation, the onsite management of 100 percent of the site's stormwater, and the use of rainwater collected from the roof to flush toilets in the building. The SIS grounds earned accolades for its Korean garden with adapted plants, an edible herb garden, an apiary, and its use of regional materials. AU's zero-waste policy also was noted for recycling and composting landscape clippings, debris, and coffee grounds from The Dav.
"It certainly feels good to see the university receiving all these awards, but our active pursuit of sustainability means that we must always strive to do even better," O'Brien noted.