Arts
Strathmore CEO Shares Strategies on Arts Leadership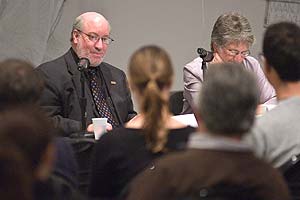 Arts management students got the scoop on what it takes to be a nonprofit leader from someone who personifies the job: the president and CEO of the Strathmore Hall Foundation, Eliot Pfanstiehl, who oversees the multimillion dollar arts complex.
It was one of the colloquia hosted regularly by the Arts Management Program to give its students a chance to hear from leaders in the field.

Pfanstiehl is noted for "making things happen" even in the most difficult of circumstances, said arts management professor Leila Smith. Smith added her own insights as a manager working to turn around troubled organizations to the talk titled "Birth, Life, and Rebirth: Reflections on Change in Cultural Organizations."
"What many of you study in organizations is a fixed moment of time," she said. "But in truth, no organization has a 'right now' more than the moment you say it. Every organization is in flux. Every organization has its ups and downs."
What makes a strong leader who can work in any climate? A few of the tips from Pfanstiehl:
It's the job of a leader to always hire people smarter and better than you are.
You can't be brilliant and skillful at everything, but you can hire people who are. Don't hire people because they make you feel better about yourself; hire them because they're better and smarter than you at their own specialty.

Leadership is more important than resources, because leadership leads to resources.
A good leader walks around. "There are no resources at your desk," he said. "In fact, there are no resources inside the organization. It's all outside." So walk around to get to know and inspire your staff, he told the students, and get out of the organization to meet people and seek resources, because no one is going to walk in the door offering you a check.

Leadership is the ability not just to have the mission, but to articulate it.
It's not enough to have a vision. A leader has to be able to be able to describe the mission clearly, enthusiastically, and quickly — within a few seconds, in fact.
Sherburne Laughlin, arts manager in residence, jumped in: "Hah! There's your elevator pitch!"
All the students knew what she meant. They'd learned about the pitch a leader has to be able to make, describing to a complete stranger, quickly and clearly in the length of an elevator ride, what their group does and why it's important.
She asked Pfanstiehl to give his "elevator pitch" about the Strathmore, and she timed it: 10 seconds. He not only used the technique they were learning, he was an expert at it — providing a perfect example of the intersection between what the students are learning and the realities in the field.
Then there was this tip from Pfanstiehl:
Crisis is a terrible thing to waste.
It's a quote from Rahm Emanuel, Barack Obama's chief of staff, and it's posted in Pfanstiehl's office. The current economic downturn has been hard on the Strathmore, as it has been on other nonprofits; but it has also allowed them to restructure. "When this recession is over," he said, "we're not going back to the way things were. This is not a storm. This is global warming."
That struck home with arts management graduate student Julie Kraus. "I was interested in what he said about how we're not going to go back to the old model — taking your losses and turning it into an opportunity."
"The biggest take-home for me," said graduate student Abbey Franke, "is there's no excuse not to be successful in managing an arts organization."