Arts
Fund to Help Dance Program Step Up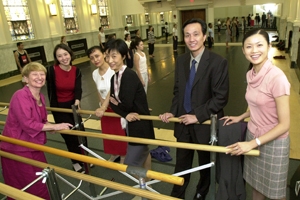 On December 8, 2012, the American University Dance Program presented Initiation in conjunction with CityDance at Strathmore. The evening of dance was created to announce and celebrate the Dr. Naima Prevots Guest Artist Fund for the AU Dance Program.
The evening's program featured performances by the American University Dance Company, students and faculty of the AU Dance Program, and special guests from the CityDance Conservatory, under the direction of AU alum Lorraine Spiegler. Christopher K. Morgan & Artists also performed special work highlighting the AU dance apprenticeship program.
Proceeds from the event went to the newly formed Dr. Naima Prevots Guest Artist Fund. Professor Emerita Prevots, founder of the AU Dance Program and a pillar in establishing the AU Department of Performing Arts, originally came to AU in 1967. During her tenure, she was known for bringing in guest artists to enhance the dance students' education, and this fund is being established to continue that legacy at AU.
"AU has a long history under her tenure of having very prestigious guest artists," says Melanie George, director of the AU Dance Program. "Our dance company, as well as the general student population, really benefits when we bring in guest artists, such as Twyla Tharp, Meredith Monk, and Anna Sokolow."
"It is really important to work with people who have a variety of methods. Christopher K. Morgan (the current artist in residence) has one style, and they get very used to working with him. The same goes with me. They understand our beats, they understand how we move. But that is just two ways of teaching in a world of different methods. For our students, having a variety is part of that liberal arts education they are experiencing.
"The second thing is, any of them who are going to go out and have careers as dancers need to have experience with other methods. They are not going to only dance for Melanie George for the rest of their lives."
The Dr. Naima Prevots Guest Artist Fund will make it possible for George to invite several guests each year. It will support paying their fees, lodging, and other expenses. Past guest artists include Joan Meggit and Leanne Schmidt, two professional dancers who came to AU to choreograph pieces for AU students last year.
George explains, "For instance, this past weekend, there was a concert at the Kennedy Center called JUBA! Masters of Tap and Percussive Dance, and one of the companies in that concert was Jump Rhythm Jazz Project, with whom I worked in the past. This fund allows me to be able to invite people in and compensate them for their work."
The fund's benefit concert will also provide a valuable opportunity for students to showcase their work in the fall. "We are getting back into the swing of having a full season and not just a main-stage spring event," says George. "We have our Choreolab in the fall, but that is a different event, in that it is a workshop performance. I think it is important for (students) to have multiple performing opportunities. The spring dance concert is a wonderful main stage event, but the question is 'what happens for the rest of the months of the year?' We have this wonderful repertory that we are able to present, so we would like to give the students multiple opportunities to perform it."
The recent Initiation concert was the first of a number of events related to the fund. There will also be fund-related events surrounding the AU spring dance concert. On April 20, there will be a pre-show panel discussion with distinguished alumni, centered on leadership in the arts, and specifically women's leadership in the arts as a direct result of Prevots' legacy.
"If you look at all the major dance organizations in D.C., and really across the country, there is someone in a leadership role that came out of Dr. Prevots' graduate dance program," states George. "Joes Movement Emporium has Brooke Kidd, Joy of Motion Dance Center has Heidi Schimpf, the Kennedy Center has Christine Stone Martin, the Washington Ballet, Dance USA, Jacob's Pillow, and the list goes on and on. I am part of that legacy as well."
AU arts management professor Ximena Varela will moderate the panel at the April 20 event. After students perform their work, a reception and toast to Prevots will follow.
For more information, visit the AU Dance Program site. To donate to the Dr. Naima Prevots Guest Artist Fund for the AU Dance Program, contact Melanie George at mgeorge@american.edu.