Arts
Don't Dream It, Be It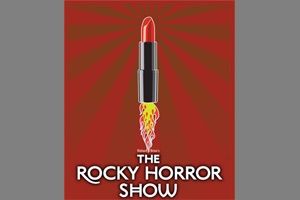 AU's performance of The Rocky Horror Show encourages acceptance.
When Cara Gabriel, director of AU's performance of The Rocky Horror Show, first read the show's script, she was disappointed, to put it lightly. "I thought, this is the worst play I'd ever read," she says. "The more I read it, the less it made sense."
Granted, Gabriel had never actually seen the live show—a shadow cast screening—before. "I'd only seen it on my VCR at home," she says. "I knew it had a mystique about it, though." Rocky Horror is well known for its cult following and raucous midnight movie showings, complete with a shadow cast that leads the audience through call backs, "virgin" hazing (those who have never attended a live show before), and use of props throughout the showing of the film.
At the first design meeting, when Gabriel asked her team what they thought the show was about, the production's lighting designer, Jason Arnold, and the dramaturg, Jeff Gan, raved about it. "They have a very deep attachment," Gabriel says. "It's a coming-of-age experience, a coming to terms with sexuality and freedom."
Their enthusiasm for the show and promise to attend a shadow cast version of it with her encouraged her to give it a chance. She went with Gan and a big group of her students, many of whom were unfamiliar with the show as well. "It was a pretty freaky experience for me," says Gabriel. "It's definitely a good-natured hazing. You just have to go in knowing what you're in for."
During the performance, a group of virgins, including Gabriel, were asked to participate in a game in which she and three or four other women had to fake an orgasm. Gabriel was completely terrified. The other women were too mortified to do it, but Gabriel knew she had to. "If I'm going to make my students do this show, I knew I had to be fearless," she says. "If I'm going to tell them to do these outrageous things over the next few months, I'll have to prove to them that I can do it."
Afterward, a big group of her cast members attended a shadow cast performance and came back with a completely new perspective on the show. "They came into rehearsal saying they felt they had total freedom," says Gabriel. "They felt uninhibited, they were energized by it."
Few people actually realize that the script itself was originally written for the stage, not film. Richard O'Brien, the author of the play, considers himself to be 70% male and also takes estrogen pills. His identity was not widely accepted in the 1970s, when he wrote the script, and Rocky Horror is a response to the traditional gender roles of the time. "O'Brien expected it to run as a stage show for three weeks and then close," says Gan. "He never designed it to be a cult anything, not a clarion call to gender non-conformity. It was designed to amuse O'Brien and his friends. But it's still around today and speaks to a wider community."
Gan emphasizes the importance of the relationship between the audience and the show in the creation of its cult status. "People who don't fit into their day-to-day lives feel like they fit here," he says. "You root for Frank-N-Furter, even though he is the mad scientist, the villain in almost any other film. You actively mock Janet and Brad, who would be considered the heroes in most settings."
Gabriel and her cast hope that attendees feel that they can be themselves during the show. "We don't want people to come to the show and feel like they have to hold back," she says. "We want you to feel that in this room, in this moment, you are permitted to be exactly who you are without fear of judgment. There's something about being in this dark theater that allows a certain type of freedom of expression that encourages you to be who you are and who you want to be."
The Rocky Horror Show will take place in the Harold and Sylvia Greenberg Theatre on October 17, 18, 19, and 26 at 8 p.m.; October 19, 20, and 26 at 2 p.m.; and for American University students on October 25 at midnight. The matinee performance on October 19 will feature a post-show discussion about the biology of transgender.
While AU's production won't have a shadow cast, AU students wanting to participate in the "virgin" experience can attend the midnight showing; those that want to join are asked to arrive at 11:45 p.m. AU's Queers and Allies will be selling prop bags before the show to encourage audience participation.