Research
Economics Professor Receives United Nations Grant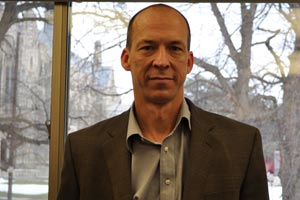 Economics professor Paul Winters has received a $151,500 grant to lead a project entitled, "Smallholders in Transition: Behavior, Constraints, and Policies." The grant is from the Food and Agriculture Organization of the United Nations (FAO). 

The project deals with international smallholders—poor farmers with small plots of land. Before markets became global in the 60s, 70s, and 80s, small and medium-sized farms were generally considered most efficient; they produced the most output per hectare, spurred development, and made food available for the urban poor. 

Recently, though, some have questioned this view. A year ago, British economists Paul Collier and Stefan Dercon presented a paper to the FAO, arguing that, in the new agricultural economy, smallholders don't have the resources to compete with big farms.

"If you went to Peru in 1980, you would still go to an open market and buy food," says Winters. "But if you go to Peru now, you go to Wongs, a supermarket chain. If you ate fried potatoes, there was a guy in the street cutting them up and frying them in front of you. Now, you buy chips from Frito Lay."

In a global economy, these supermarkets, restaurants, and processors have strict standards that regulate the uniformity of the crops they purchase. Because large farms can produce these uniform crops for a lower cost and at a higher volume than smaller farms can, they become preferred suppliers in these countries. Frito Lay, for example, would rather buy from 10 large farms than 10,000 smallholders. Thus, smallholders are pushed out of the market entirely. 

Winters' project aims to answer several questions: Can smallholders really not compete in the new, global agricultural economy, as Collier and Dercon have projected? If they cannot compete, what should the U.N. and development agencies do to help make the transition out of agriculture less traumatic for smallholders in developing nations? How can small farmers stay economically competitive while avoiding poverty?

Winters and a team of FAO researchers will examine smallholders in South Asia, East Asia, Africa, and Latin America, with Winters focusing on Latin America because of his previous experience with the region. Additionally, he will oversee the technical aspects of the project for all four regions, such as determining the best methods of data analysis.

Winters will analyze surveys from Mexico, Chile, Nicaragua, and a yet to be determined Andean nation. These extensive surveys, administered by the nations themselves with the help of the World Bank, examine impoverished and agricultural populations, including smallholders, within these countries. Winters and his graduate assistant, PhD candidate Heath Henderson, will use this data to determine what the present and future is for smallholders in transition. 

Winters hopes that the data analysis from all four regions will be published in a special edition of a journal, with a synthesizing introduction paper comparing and contrasting smallholders in South and East Asia, Latin America, and Africa. The FAO will also publish policy briefs to advise policymakers with the Ministry of Agriculture on how to deal with struggling smallholders.