Professional News
Alumna Awarded Superintendent of the Year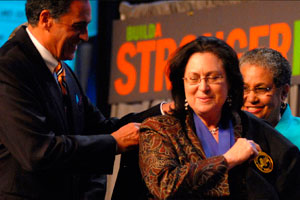 As the superintendent of Washington County schools, Betty Morgan, PhD education administration '87, has revolutionized many aspects of a school district that once had a low graduation rate and a high dropout rate. Since Morgan assumed her position, the Maryland county's percentage of college-goers increased by 23 percent, per-pupil spending increased, and the drop-out rate in the district has dropped from 5.5 to 1.7 percent.
Morgan's tremendous efforts have not gone unnoticed. In February, she was awarded the National Superintendent of the Year Award from the American Association of School Administrators for her leadership in education, her communication and professionalism, and her community involvement. 
Morgan is no stranger to hard work and determination. She worked during the day while attending night classes to earn her numerous degrees. While pursuing her PhD, she worked as a Montgomery County administrator during the day while taking demanding doctorate courses in the evenings. 
"Getting my BA and a PhD were the two major goals that I set for myself in life," says Morgan. "And I'm happy to say I achieved them both." 
After receiving her PhD in 1987, Morgan worked as a principal at Lake Seneca School in Germantown, Maryland, in Montgomery County, and eventually assumed other administrative roles in that school system, as well as in Frederick County, MD, before becoming chief academic officer in Baltimore City in 1998, during a major turnaround of the city's school system. 
In 2001, she learned about her current position by chance. The Washington County Public School Board, who was seeking an interim superintendent, and her name was given to them. "So I came to be acting superintendent, kind of like the person that came to dinner and stayed for nine years," says Morgan. 
Since assuming the position, Morgan's primary goal has been to foster a world-class learning environment for Washington County students. It's a job that requires juggling input from students, teachers, administrators, and parents alike. 
"There are all these different elements and you've got to make sure everybody's in the boat and rowing toward the same direction," says Morgan. "Every day, something happens – not necessarily a major event, but when you're transporting 20,000 students a day or feeding 19,000 students, that's a very big job." 
However, interacting with so many people is not a problem for Morgan, a self-described "people person" who often will attend school and community events during the week, as well as on weekends, and says her door is always open. 
"If I didn't enjoy it, it would be very hard to do," says Morgan. "I like people knowing who I am and that they can depend on me for things. I enjoy that part of the job."