Research
Student Researcher Wins Travel Grant, Goes to Sweden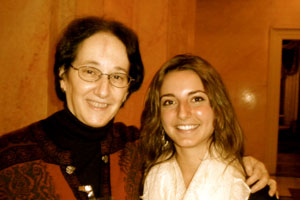 When Elise Campbell, BA biology '13, asked for the money to attend an international research conference in Sweden, she was stunned with good news—a yes.
She received a research travel grant, funded by the Vice Provost for Undergraduate Studies office and the University Honors Program. Subsequently, they established a new program to support students who attend conferences to present original research. Campbell was the first, and, from now on, the university will offer several Undergraduate Research Travel Grants each year.
Campbell coauthored a paper, "Talking Takes Too Long: Gender and Cultural Patterns in Mobile Telephony," with her mentor Professor Naomi Baron, that they presented at the Association of Internet Researchers (AoIR) annual conference in Gothenberg, Sweden, on Oct 20-24, 2010.
"It was a wonderful opportunity to look at modern communication from an international perspective," says Campbell. She also attended lectures on a wide array of subject matters related to Internet research, from Internet advertising to chat room communication and branching out into different mobile communication.
"I was just one student, asking for money to go this conference," she says. "They really went through every length that they could to get me there, and I really appreciate that. Otherwise, I wouldn't have been able to go," she says.
In 2009, Campbell was a freshman looking for work when she saw Baron's job posting looking for a graduate student to help her with statistics, but Campbell took a risk, applying anyway, thinking her aptitude in high school advanced placement statistics qualified her for the job. Even though Baron told her she preferred a graduate student, Campbell came back to ask for the job second time. Elise says she was even prepared to beg her. It wasn't necessary—Professor Baron hired her.
"I saw her wide-eyed wonder about the world," Baron says, "she clearly cared passionately about learning and would be self-motivated." With such an outlook, Baron realized that Campbell would figure out what she doesn't know.
Campbell spent six months working on solely statistics and mathematics, and, gradually, she started becoming more and more integrated into the project. More responsibility led to a new job title of research assistant.
After her freshman year, Campbell asked Baron if she could stay on and work for the summer, but Campbell also wanted to travel abroad and work in a health clinic in the small fishing village of Mancora, Peru. She asked Baron if she could do her work remotely from her laptop with e-mail conferences, to which she agreed.
In Peru, Campbell found her calling: To become a physician in the field of women's health and to create a more holistic and practical solution to women's health issues in developing nations. "That travel experience changed me to working towards going to medical school, but I wouldn't have been able to see this without Professor Baron allowing me to work while I was there. It was really her doing that allowed me to go there and started shaping what I wanted to do in the future," says Campbell.
She worked in a Peruvian health clinic on a water purification project and managed a teen girls' club—all in addition to her statistical work with for Professor Baron.
During this time, Baron presented Campbell with another great opportunity: She invited Campbell to coauthor the paper with her. After Campbell returned from Peru, they were working together as colleagues. "It really progressed in an unexpected, but incredible way," she says.
Baron and Campbell analyzed data on gender differences in mobile phone use from 2,001 respondents from five countries—Italy, Japan, Korea, Sweden, and US. "There were some really clear cut differences in appropriateness with mobile phones usage between men and women," she says. In many cases, girls are more bothered than boys by dependency or "reachability," and they suggest that this is because girls text more. On the other hand, a high proportion of boys, 47.3 percent, complained about the ability to be reached at any time, to which some argue males object to mobile phones because they don't like to "follow the rules of mobile communication (e.g., responding to texts immediately)."
Baron and Campbell are on the forefront of modern communication research, examining how new technologies enable people to alter patterns of communication and its progression over time. The telegraph and the landline telephone, for instance, redefined assumptions about how social interaction should be conducted, and even today, traditional gendered language is perpetuated by mobile phone usage. They worked closely with many translators, because survey responses had to be interpreted carefully. "One response could read 10 different ways," Campbell says, "The most surprising part was working through all the cultural differences."
Gender is just one variable; culture may be a more critical issue. Americans avoid talking to strangers by talking on their cell phone; Italians won't use their phone while sitting at family dinners; Koreans use mobile phones more frequently compared to others; and the Japanese are least bothered by dependency.
"It's really interesting to look at how mobile phones are changing third world and developing countries—this is the level I'd like to look into as a next step in this research," Campbell says.
But for now, she's headed back to Peru for four months and will be conducting her own research using the skill set that Professor Baron taught her. "This time, I'm hoping to focus more on the clinical aspect of health. It helps me look at health in a more holistic way. I think my research is going to be an integral part of my understanding the path that I want to take."
Whether it's women's health or modern communication, a love and dedication to research connects the two interests. "From this entire experience, I learned crucial research techniques and what goes into conducting and publishing official academic research," she says. Campbell says she'll remember her time with Professor Baron as a tremendous growth experience. "I was in a position where I needed to be just as informed and on top of everything as she was. Professor Baron pushes you to not just be a college student, but to think 'I'm an academic now, and I need to start thinking like one.'"