Humanities
CAS's First Africanist Historian Publishes New Book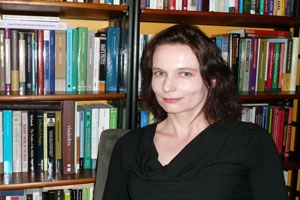 Assistant professor of history Elke Stockreiter recently completed her first book, Islamic Law, Gender, and Social Change in Post-Abolition Zanzibar (Cambridge University Press, 2015). The book examines Zanzibari society (East Africa) from 1890 to 1963, at a time when the island was under British colonial rule.
In her research for the book, Stockreiter studied historical Islamic court records in Arabic, which revealed how Muslim judges helped advance the rights of women, ex-slaves, and other marginalized groups. The book's findings reassess how historians and students of history see gender relations and the roles of Islamic courts in colonial East Africa and beyond. 
"In the courts, women, former slaves, and the poor frequently filed claims—and often won," Stockreiter said. "These claims demonstrate that men accepted women as economic actors, such as by selling property to them."
Stockreiter also found evidence that divorce was very common in colonial Zanzibar—and that it was initiated by both men and women. "Women in colonial Zanzibar mostly had to buy their divorce, meaning they had to materially compensate the husband," she said. "To many readers, this will seem surprising, as they think the most common type of divorce in the Muslim world, past and present, is the one in which the husband arbitrarily repudiates the wife."
African History: A New Area of Study for the College
Stockreiter, who joined the College of Arts and Sciences in fall 2013, has already become an indispensable member of the history faculty, in just three short semesters, according to Professor Pamela Nadell, chair of the Department of History. 
"Teaching African history is extremely demanding. The field ranges from the foundations of man to the present, covers an entire continent, studies peoples of different ethnicities and religions, and requires knowledge of multiple languages. We are fortunate to have a scholar of Professor Stockreiter's stature introducing this subject to our students." 
Stockreiter said she's honored to be the first Africanist in the History Department at the College of Arts and Sciences. "I enjoy the challenges of bringing this new field to AU's students," she said. "Contemporary events capture students' attention first, but I'm keen to build on their interest by adding historical depth and diversity. As Africans tend to be misrepresented and misunderstood, studying their history helps considerably to contextualize what is going on in the world today."
In the Classroom
Stockreiter is teaching two courses this semester. The first, a general education course titled Modern Africa, explores African experiences under European colonialism, the growth of African nationalism and independence, and the economic, political, and social challenges in post-colonial Africa. 
Her second course, Africa Through Foreign Eyes, studies perceptions of African societies through first- and second-hand accounts, ranging from medieval travelers to present-day journalists. Stockreiter and her students examine how these accounts provide meaningful insights into African cultures, and how outsiders' views informed our views of Africa today. Stockreiter says she enjoys sharing her expertise in the classroom. "I would like to encourage AU students to join me in exploring the long and rich history of Africans. It's a challenging journey yet rewarding and full of surprises." 
For More Information
Visit the Cambridge University Press website.