Liberal Arts
Professor's Writings Ignite Medical Ethics Debate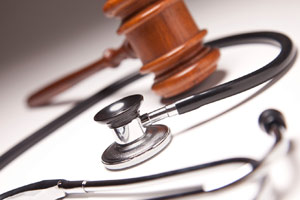 Surgical and pharmacological procedures meant to alter children's genitalia are rife with ethical issues, but philosophy professor Ellen Feder believes that lack of official medical oversight shouldn't be one of them.
She and colleague Alice Dreger of Northwestern University are combating two troubling cases in which patient rights have been compromised in the quest to create "normal" female genitalia. The pair has written a series of three pieces for the website Bioethics Forum examining the practices of pediatric urologist Dix Poppas and pediatric endocrinologist Maria New. The articles have drawn global attention from Time and Newsweek magazines and have inspired a firestorm of debate on a range of internet forums, from the popular syndicated sex advice column "Savage Love" to the biomedical research blog Nature Medicine.
For the past 15 years, Poppas, a well-known academic physician at Cornell University, has performed "nerve-sparing" clitoroplasties on young girls diagnosed with "larger than normal" clitorises, during which he would shorten the girls' clitorises by removing parts of the organs' shafts, leaving the clitoral glans intact.
While Feder and Dreger have long opposed clitoroplasty—a procedure that they argue carries significant risks and for which there is little evidence of benefit—the pair noticed two additional major ethical problems with Poppas' work. He has been conducting unauthorized annual follow-ups with post-operative patients after they turn five. During these procedures, he has been using a "vibratory device" on each patient's clitoris, vulva, vagina, and inner thigh to test whether his surgical technique successfully preserved clitoral sensation. Further, Poppas has been compiling data from these annual procedures for research purposes without receiving either Institutional Review Board approval or the patients' consent to be research subjects—both practices that the Office of Human Research Protections strictly prohibits. "Once you undertake follow-up procedures with the intention of doing research, you are no longer engaging in follow-up for the benefit of the individual patient," Feder explains.
According to AU IRB coordinator Matt Zembrzuski, researchers operating without IRB approval can fail to foresee negative physical, psychological, or social effects that result from their research. "An IRB is an independent group that will not have the biases that a researcher would toward their own research," he says. "They specifically look to ensure that risks are minimized in relation to the benefits gained." In the case of Poppas' work, appropriate clinical oversight would have ensured that his patients received appropriate emotional assistance to offset the psychological effects of both the surgery and its follow-ups. "What we know from adults who have been subjected to 'normalizing' genital surgeries is that it's often not the surgeries that prove most harmful later in life, but the subjection to repeated follow-up and the shaming messages the children receive about their bodies," Feder says.
In the case of Maria New, attempts to alter female children's genitalia began before they were even born. A pediatric endocrinologist and researcher at New York's Mount Sinai Medical Center in New York, New administered the compound dexamethasone—a drug without FDA approval—to pregnant women whose unborn children were at risk for developing congenital adrenal hyperplasia (CAH), a potentially fatal disease caused by faulty adrenal glands.
But, while research indicates that the drug may prevent the development of atypical genitalia and tomboyish traits characteristic of girls with CAH, it does nothing to address the faulty adrenal glands that cause the disease—leading Feder and Dreger to question the motives of the intervention.
Further complicating the matter, it is unclear if New sought approval to administer the drug in the first place or informed the mothers of the potential risks of taking the off-label dexamethasone while their children were in utero.
"These are significant medical interventions for altering girls' bodies without evidence of the benefit for doing so," says Feder. "Children who have not had surgical intervention seem to flourish. Some physicians have raised the question of whether parents can love children with atypical genitalia. I think we have enough evidence to demonstrate that parents have the capacity to love their children, however they come."
Feder and Dreger's work—and the media maelstrom that followed it—have led the Office of Human Research Protections and the Food and Drug Administration to review the two studies. The organizations' investigations are ongoing.