Arts
Creative Connections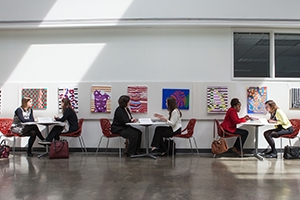 For the 8th annual Emerging Arts Leaders Symposium (EALS), 200 students, arts leaders, and young professionals from across the country converged at the Katzen Arts Center for an opportunity to meet some of today's most innovative leaders in the field of arts management.
The Emerging Arts Leaders Symposium connects young professionals with experienced arts professionals for a day of learning, networking, and reflection. The symposium traditionally kicks off Arts Advocacy Day, a nationwide event that highlights the importance of arts in America.

Movers and Shakers  
This year's keynote speakers were Jane Chu, chairman of the National Endowment for the Arts, and Howard Herring, president and CEO of New World Symphony.  
Chu called upon the audience to "provide a creative way of leading that synthesizes different perspectives" in their careers, and Herring shared videos of the innovative blending of music and interaction that New World Symphony creates for its audiences. 
This year's speakers represented major arts institutions including Lincoln Center for the Performing Arts, the Smithsonian Institution, OPERA America, Springboard for the Arts, and Washington Performing Arts.  
Robert L. Lynch, president and CEO of Americans for the Arts, offered closing remarks that sent the audience out of the symposium ready to jump into Arts Advocacy Day.  
Relevant and Redefining  
Through speeches, panel discussions, and networking events, arts leaders impart knowledge to students and young professionals who are preparing to enter the arts management field themselves.  
The theme of this year's EALS Symposium was ArtREDEFINED, exploring the ways that arts organizations have adapted to address the issues facing them today. Panel topics included "Back to Black: Achieving and Maintaining Financial Stability," "Arts In Post-Crisis Areas," "Outreach Outcomes: Engagement that Matters," and "Founder's Stories: Entrepreneurship and Arts Startups."  
"It was incredible how we had really influential arts leaders from prominent arts organizations all in one place at one time," said Laura London (MA arts management '15), a member of the EALS planning committee.  
For Emerging Leaders, By Emerging Leaders  
The symposium was originally proposed in 2008 by Michelle Grove (MA arts management '08), and has since grown to an annual event that draws participants from all across the country. This year, participants included students from Columbia University, Savannah College of Art and Design, Drexel University, George Mason University, George Washington University, Carnegie Mellon University, and other universities. 
The event is organized by a committee of nine students in AU's Arts Management Program. Throughout the year, they work to produce the symposium, by conducting fundraisers and developing relevant and timely panel discussions.  
Participants say that the event is a valuable opportunity for students and arts professionals at any stage in their careers. "EALS is unique because no other gathering for arts managers offers such an intimate setting for young leaders to dig into the hard questions with the leading voices in our field," said Erin Quinlan (MA arts management '15), who served as this year's committee chair. "On top of the typical conference experience, EALS also offers time for networking and camaraderie with the up-and-coming leaders of the art world who will be your colleagues for years to come."  
Lasting Impressions  
"This was my third EALS in a row, and it was honestly the best EALS yet. And I say that even though I served on the EALS committee last year," said Jessica Ferey (MA arts management '15). "It was really nice to sit back as an audience member this year and soak in all the knowledge from a truly incredible roster of speakers."  
"It was thrilling to see the concepts and ideas we learn about in the classroom being discussed by professional arts managers with such passion," said Jared Chamoff (MA arts management '16). "It was also great to feel a sense of community after spending time alongside emerging arts leaders from so many different programs."