Social Sciences
Professor Emerita of Sociology Earns Lifetime Award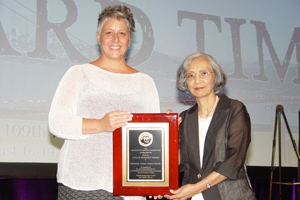 Professor Emerita of Sociology Esther Ngan-ling Chow won the 2014 Jessie Bernard Award from the American Sociological Association (ASA) for her lifetime contributions to the study of women and gender.

The annual award, named in honor of sociologist and feminist scholar Jessie Bernard (1903–1996), is given in recognition of scholarly work that has incorporated women and gender into sociological theories and research. It is presented for significant cumulative work done throughout a professional career.  
Chow was a member of the College faculty for 37 years before retiring. In 2011 she was named professor emerita of sociology. A feminist scholar, researcher, teacher, writer, and activist, her work has focused on intersectionality, social inequality, family and work, gender and development, migration, globalization, policy study, and public sociology. In particular, she is known for her pioneering scholarship related to Asian American women and women of color.  
Scholar  
"Chow produced significant research in the areas of women's studies, gender, and intersectionality and applied that knowledge in ways that have made a significant inclusive difference in the discipline of sociology," said Bette Dickerson, professor of sociology. "She also maintained an active international presence throughout her career and was active in the International Sociological Association. Her co-founding of the True Light Foundation in China is just one tremendously successful illustration of how she was always 'lifting as she climbs.' I think of Esther Chow as not only a groundbreaking scholar of note, but also as a generous, committed role model and a caring mentor."  
Chow's scholarship is recognized by professional societies in the United States, Taiwan, Hong Kong, China, and Japan. She has served in leadership positions in many of the discipline's professional associations and on the editorial board of several academic journals. Some of Chow's published works (including 11 books and more than 40 journal articles and book chapters) have been translated into Chinese and Japanese.  
Chow's work was recognized with a Distinguished Faculty Award at American University, an Outstanding Scholarship Award in Social and Behavioral Sciences from the Washington Academy of Sciences, and two achievement and career awards from the District of Columbia Sociological Society.  
Teacher and Mentor  
Dickerson said that Chow was known as an exceptional teacher and mentor during her tenure at American University. "She supervised scores of doctoral dissertations, MA theses, and research projects. Her commitment to her students is impressive and she maintains mentoring relationships with most of them to this day," said Dickerson.

Chow's dedication to her students and colleagues earned her the Outstanding Teaching Award from the ASA and the Mentoring Award from the Sociologists for Women in Society (SWS). Chow also received the SWS Feminist Activism Award in recognition of efforts in using feminist knowledge production to inform policy and translate sociological ideas into public understanding and praxis. SWS honored her in 2010 by naming a major award the "Chow-Green Dissertation Scholarship."  
Feminist Sociologist  
Chow said she embraces Bernard's advocacy of feminist imagination and transformative scholarship. 
"It is global feminisms that inspire me to transcend the conventional mode of thinking and acting across boundaries," she said. "I am gratified that this award affirms my identity of being a feminist sociologist."