Research
Pascale's Book Explores Qualitative Epistemologies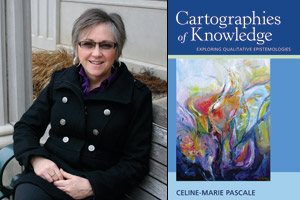 Knowledge may be power, but so are methods of obtaining knowledge, says sociology professor Celine-Marie Pascale. In her new book, Cartographies of Knowledge: Exploring Qualitative Epistemologies (Sage Press, 2010), Pascale goes beyond critiquing methods of qualitative research that perpetuate power imbalances between researchers and subjects: she evaluates the premise and logic at the core of such research.
"I argue that qualitative social research premised on the model of the physical sciences is not able to fully apprehend social processes," she says.
Even sociology and anthropology, which often challenge power and inequality, don't always effectively address inequalities. For example, she says, "If we are not able to address the systematic absence of some groups of people in our research, we naturalize exclusionary environments as ordinary environments, and we don't get at why those environments are shaped the way that they are. Who's being excluded, why, and what are the consequences of that?"
Pascale says she hopes the book will cause readers to rethink these problematic methods so that another generation of scholars will take these challenges a step further.
"My greatest optimism for this book," she says, "is that it will inspire other scholars to create both critiques and solutions for the kinds of challenges that the social sciences face in producing reliable knowledge about today's world."
Pascale, who was awarded tenure in 2009, is working on another book, Inequality: The Politics of Representation in a Global Landscape (Sage Press, forthcoming 2012), which examines how people around the world perceive relationships of power and privilege, and how those perceptions influence attempted solutions.