Arts
AU Arts Fall Performing Arts Schedule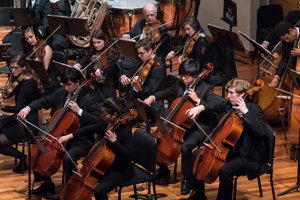 This year marks an important milestone at American University: the 10th anniversary of the Katzen Arts Center. Ten years ago, AU received an extraordinary gift from Dr. Cyrus and Myrtle Katzen to build an interdisciplinary center, which brings together the performing and visual arts for the AU community and the city of Washington, DC. 
AU is excited to launch a year-long anniversary celebration featuring performances, exhibitions, and events that showcase the talents of our students, faculty, and esteemed guest artists. 
Celebrate with us by attending one or more performances!
New Student Showcase: Overture
Caleen Sinette Jennings, playwright, lyricist, director
Sept. 25-26, 8 p.m. 
Harold and Sylvia Greenberg Theatre
The New Student Showcase welcomes the dynamic incoming class of 2019 to the American University performing arts community, and introduces them to the incredible adventure of becoming a performing artist. Through monologues, scenes, and song, the new students reveal their insecurities, passions, and ambitions. It's an unforgettable rite of passage and celebration of the first days at AU.
Tickets: $5 general admission
202-885-ARTS or american.edu/auarts
The Gorenman Russian Project
Oct. 10, 8 p.m.
Katzen Arts Center, Abramson Family Recital Hall
Internationally acclaimed concert pianist Yuliya Gorenman explores masterpieces of great Russian composers. Selections for this concert include works by Tchaikovsky, Prokofiev, and Rachmaninoff.
Tickets: $25 general admission/$10 AU students
202-885-ARTS or american.edu/auarts
The Threepenny Opera 
Book and Lyrics by Bertolt Brecht
Music by Kurt Weill
English adaptation by Marc Blitzstein
Cara Gabriel, director
Brandon Adams, music director 
Ralph Glenmore, choreographer 
Oct. 15-16, 23, 8 p.m. 
Oct. 17, 24, 2 p.m. and 8 p.m.
Harold and Sylvia Greenberg Theatre
Mackie's back! The Threepenny Opera, a revolutionary masterpiece by Bertolt Brecht and Kurt Weill offers a biting critique of social and political life in the 20th century. This production features burlesque acts and comic interludes, as well as the play's original gritty characters, haunting jazz score (including "The Ballad of Mack the Knife" and "Pirate Jenny"), and sinister lyrics that inspired Newsweek to christen it "the greatest musical of all time" and remind us that corruption's reach runs deep and wide. This performance contains graphic language and adult themes.
THE THREEPENNY OPERA is presented through special arrangement with R & H Theatricals: www.rnh.com.
Tickets: $15 regular admission/$10 AU community and seniors
202-885-ARTS or american.edu/auarts
Modern Times
American University Symphony Orchestra
Oct. 30, 8 p.m. 
Oct. 31, 7 p.m.
Katzen Arts Center, Abramson Family Recital Hall 
This year, the music world celebrates the 150th birthday of Jean Sibelius. The AUSO joins the celebration in performing Sibelius' uniquely beautiful Violin Concerto, featuring soloist Jess Bauer, winner of the 2015 AU Concerto & Aria Competition. Director of Orchestral Activities, Yaniv Dinur, and the AUSO will also perform Beethoven's beloved 7th Symphony, a classic that today still sounds as modern as ever.
Tickets: $10 regular admission/$5 AU community and seniors
202-885-ARTS or american.edu/auarts
Halloween Spooktacular
American University Symphony Orchestra
Oct. 31, 3 p.m.
Katzen Arts Center, Abramson Family Recital Hall 
The American University Symphony Orchestra and music director, Yaniv Dinur, will perform under the spell of witches and ghosts in this frightfully fun family concert. Don't forget to wear your spookiest costume!
Tickets: $10 regular admission/$5 AU community and seniors
202-885-ARTS or american.edu/auarts
When Spirits Attend in the Balcony
Featuring Maurice Duruflé's Requiem and Arvo Pärt: Salve Regina 
Charlotte Bergmann, mezzo-soprano and Austin Siebert, baritone
Julie Evans, organ
Daniel Abraham, director and conductor
Matthew Brown, guest conductor 
Nov. 7, 8 p.m. 
Nov. 8, 3 p.m.
Kay Spiritual Life Center
As the fourth program in the collaboration between Dr. Richard R. Palmer and the American University Music Program, the American University Chamber Singers present Maurice Duruflé's stirring Requiem alongside Arvo Pärt's Salve Regina, and works by J. S. Bach, John Tavener and Frank Ticheli.
Tickets: $10 regular admission/$5 AU community and seniors
202-885-ARTS or american.edu/auarts
Choreolab 2015: Facing Forward
Melanie George, artistic director
Nov. 11, 8 p.m.
Harold and Sylvia Greenberg Theatre
The culmination of a two-month mentored creative process, join us as AU's student choreographers present this exciting evening of concert dance. You will see an array of works in progress by AU's emerging choreographers, and, following the performance, hear feedback from a panel of local dance professionals.
Tickets: $5 general admission
202-885-ARTS or american.edu/auarts
Bachelorette
By Leslye Headland 
Carl Menninger, director
Nov. 12-13, 8 p.m.
Nov. 14, 2 p.m. and 8 p.m.
Katzen Arts Center, Studio Theatre
On the eve of her wedding, Becky has arranged the perfect bachelorette celebration — but after two party crashers, one manipulative maid of honor, and a bathtub of booze, things don't go according to plan. This show contains mature content.
Tickets: $15 regular admission/$10 AU community and seniors
202-885-ARTS or american.edu/auarts
4 x 4: Celebrating Contemporary Chamber Music
American University Workshop
Noah Getz, director
Nov. 14, 8 p.m.
Katzen Arts Center, Abramson Family Recital Hall
The last twenty years have seen the proliferation of many extremely successful contemporary chamber ensembles. These groups have forged a new identity for this music through commissioning and championing new works. This concert will focus on these contributions by featuring chamber ensemble configurations within the Workshop to bring you these exciting and dynamic pieces.
Tickets: $10 regular admission/$5 AU community and seniors
202-885-ARTS or american.edu/auarts
American University Symphonic Band Fall Concert
Ben Sonderman, director
Nov. 15, 3 p.m.
Katzen Arts Center, Abramson Family Recital Hall 
The American University Symphonic Band presents classic gems and current favorites from the symphonic band repertoire.
Tickets: $10 regular admission/$5 AU community and seniors
202-885-ARTS or american.edu/auarts
Fall For Jazz
American University Jazz Orchestra
Nov. 20, 8 p.m.
Katzen Arts Center, Abramson Family Recital Hall 
The American University Jazz Orchestra, directed by Joshua Bayer, will perform a varied program of music for big band, including swing, bebop, and blues.
Tickets: $10 regular admission/$5 AU community and seniors
202-885-ARTS or american.edu/auarts
Through Tempests And Trials
American University Chorus
Casey Cook, director
Nov 21, 8 p.m.
Nov 22, 3 p.m.
Katzen Arts Center, Abramson Family Recital Hall 
The American University Chorus will perform 3 pieces from the past 75 years of choral music; including Norman Dello Joio's "Song of the Open Road" which is a setting of a Walt Whitman text, Jonathan Dove's "The Passing of the Year" a cycle of seven pieces for double chorus and piano, and Georgy Sviridov's stunning a cappella setting of "Pushkin's Garland".  
Tickets: $10 regular admission/$5 AU community and seniors
202-885-ARTS or american.edu/auarts