Humanities
Julia Child, Cupcakes, and the Politics of Food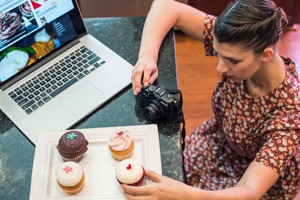 Have you ever wondered why so many blogs today are devoted to cupcakes? Or why Julia Child has become the recent subject of blogs, articles, and films? Or why so many daytime cooking shows are hosted by women compared to primetime cooking shows hosted by men?
These are the questions students are exploring in the latest issue of Food, Media, and Culture, the annual online journal produced by the American Studies Program at American University. The journal spotlights essays by undergraduate students who have conducted outstanding research on topics relating to American food and culture. 
It is the only existing journal in the United States that offers an academic perspective on the relationship between food and social media. Every year, the journal addresses local and topical issues such as road kill cuisine, diet cookbooks, and food-truck wars in Washington, DC. The student authors cycle their essays through an intensive peer review process, learning how to transform their seminar papers into scholarly articles that meet the standards of an academic journal.
Hot off the Press: the New Issue
The latest issue of Food, Media, and Culture focuses on the intersection between food, gender, and social media in the United States. It is available online. 
Inspired by a seminar of the same title taught in the fall of 2014 by professor Katharina Vester, the journal features four articles written by AU students Dana Bramble, Samantha Ruggirello, Lindsay Sandoval, and Samantha Theriault. 
Food Network Celebrity Chefs and Gender Roles
Dana Bramble's article critically examines the careers of Food Network celebrity chefs Giada de Laurentiis and Paula Deen. Bramble reveals how both cooking stars perform traditional notions of femininity despite their different cultural backgrounds and attitudes toward food. Bramble argues that these gendered performances appeal to audiences' nostalgia for women on historic cooking shows. In specifically investigating the Christmas television specials of Deen and De Laurentiis, Bramble points to the antiquated gender roles perpetuated by the Food Network. 
Fighting Oppression with Food
Samantha Ruggirello explores two seminal cookbooks written by the National Council of Negro Women from 1958 and 1994. Ruggirello shows how the authors of these cookbooks used food to highlight African American history at a time when this subject was overlooked or distorted by mainstream media. The 1994 cookbook's focus on black motherhood is particularly powerful, working to reverse stereotypes of black women as mammy figures and domestic servants. In comparing and contrasting two cookbooks by the National Council of Negro Women, Ruggirello demonstrates how food can be a powerful weapon in fighting oppression.
Cupcakes and New Domesticity
Lindsay Sandoval examines more contemporary recipes and foodways by analyzing current trends in "cupcake blogging." By critically analyzing the most popular baking blogs of today, Sandoval locates these bloggers within a larger movement known as "New Domesticity," which describes the trend of young urban professionals leaving corporate jobs to pursue baking professions in the home. Sandoval investigates this shift to the domestic sphere and whether or not cupcake bloggers are finding more liberation and fulfillment in the home.
Evolving Viewpoints on Julia Child
The journal concludes with an article by Samantha Theriault on America's favorite chef: Julia Child. Theriault takes a fresh look at Child's career by contextualizing her within the culture of feminism, pinpointing the ways in which Child obeyed and defied feminists wanting to expand women's role outside the home. Theriault also studies the renewed interest in Child today and the problems that arise when scholars claim Child as a feminist hero and icon. 
Theriault, and the other contributors to this year's journal, aim to show how food is "a form of cultural capitol" that influences discourses on gender, race, class, and other forms of identity. To learn more about the impact of social media on food, read the latest issue of Food, Media, and Culture online.