On Campus
AU and National Gallery of Art Present Free French Film Series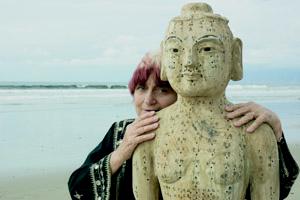 The National Gallery of Art and American University are pleased to announce a retrospective of award-winning French filmmaker Agnès Varda. The films are sponsored by the National Gallery of Art, the Cultural Services of the French Embassy, and American University's School of Communication and College of Arts and Sciences.
All film screenings are free of charge and will take place at the National Gallery of Art and at American University. Films at AU will be shown in the McKinley Building's Forman Theater with a seating capacity of 145. No reservation needed. First come, first seated. 
Award-winning Films and Filmmaker
In May, the Festival de Cannes awarded Varda the Palme d'honneur, an honor granted to established directors whose body of work has had significant universal impact. A photographer, actor, and storyteller who adeptly mixes fiction and fact, Varda (the first woman to receive the Palme d'honneur) has been at the vanguard since the 1950s, as she heralded major trends such as the nouvelle vague. Her more recent films—reflective, witty, and whimsical—are essayistic portraits of personalities, processes, or places touched by Varda herself. 
Following are film dates and locations:
The Beaches of Agnès
Friday, October 2, 7:00 p.m.
American University, McKinley Building, Doyle/Forman Theater
Folding old and new footage into a retrospective look at her life, Varda ruminates on her extraordinary career with typical wit, composing touchingly Varda-esque landscapes while recalling old friends, lovers, and colleagues, and early memories beside the North Sea in Belgium, in the Mediterranean village of Sète where she grew up, and along the shorelines of Venice, California. "If you opened me up, you'd find beaches.''(Les Plages d'Agneès, 2008 , subtitles, 110 minutes)

The Gleaners and I
preceded by Ôsaisons, Ôchâteaux
Sunday, October 18, 4:00 p.m.
National Gallery of Art, East Building
Opportunities for gleaning attract Varda, and she explores this rich topic in art, literature, and history while traveling from countryside to urban alleyway in search of real gleaners (those who truly "live off the leftovers of others"). Political arguments, simple observations, and larger ruminations are assembled into a sort of rambling road movie as, camera in hand, Varda develops her ideas. (Les glaneurs et la glaneuse, 2000, 35mm, subtitles, 82 minutes)
Seemingly a survey of the royal chateaux of rural France, Ôsaisons, Ôchâteaux soon digresses to discover the laborers, gardeners, farmers, and personalities who add the local color that Varda craves. (1958, 35mm, subtitles, 20 minutes)

Cléo From 5 to 7
Friday, October 23, 7:00 p.m.
American University, McKinley Building, Doyle/Forman Theater
Varda's compelling early narrative paints an oblique portrait of Paris on a certain day—June 21—when the astrological sign of Gemini shifts to Cancer. The camera tracks, in real time, a nightclub singer (Cléo) walking through the city's streets, anxiously awaiting news about her latest medical tests. Balancing a new fragility and an unsettling awareness of death, Cléo's odyssey becomes a piercing counterpoint to the vitality of city life, as she travels from the Right Bank, over the Seine, and through Left Bank neighborhoods. (1961, subtiles, 90 minutes)

La Pointe Courte
Wednesday, November 4, 7:00 p.m.
American University, McKinley Building, Doyle/Forman Theater
In this luminous early tour de force, Varda documents the lives of local waterman and the daily rhythms of a village near her childhood home on the Mediterranean coast—as she concurrently develops a fictionalized portrait of a young city couple who go there (Philippe Noiret, playing the husband, grew up in the region). "A meshing of documentary and fiction, of neorealist aesthetics and high culture," said critic Ginette Vincendeau. Forging a new filmic aesthetic, La Pointe Courte paved the way for the French New Wave. (1955, digital file, subtitles, 86 minutes)

Varda: Actualités
Saturday, October 31, 12:30 p.m.
National Gallery of Art, East Building
A sampling of Varda's legendary shorts from the 1960s: Salut les Cubains (1963, 30 minutes), filmed when she visited the Cuban Film Institute and returned with hundreds of photographs, many included in the film; Black Panthers (Huey) (1968, 31 minutes) about a California rally to free Huey P. Newton, arrested for killing a policeman, featuring interviews with many supporters including Stokely Carmichael, Eldridge Cleaver, and Cleaver's wife Kathleen; and Elsa la Rose (1966, 20 minutes), a portrait of writers Louis Aragon and Elsa Triolet, a celebration of their devotion (with Aragon's poetry narrated by Michel Piccoli), and a musing on life and art. (Total running time 81 minutes)

Jane B par Agnès V
Sunday, November 22, 4:00 p.m.
National Gallery of Art, East Building
The many faces of actress Jane Birkin are revealed in Jane B par Agnès V, a collaboration between two great talents (Varda and Birkin) and a study of their long friendship. For her part, Birkin makes some surprising revelations, rehearses with her partner Serge Gainsbourg, and assumes a variety of roles before Varda's camera. "Inspired by tributes to dead actors aired on television, Varda splices together interview material with mocked-up extracts . . . a musing on being a muse and the impossibility of representation," said critic Emma Jackson. (1988, 35 mm, subtitles, 97 minutes)


To Learn More
Visit the AU School of Communication or National Gallery of Art websites.