Arts
Gorenman Beethoven Project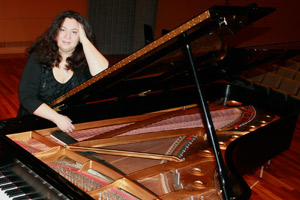 World-renowned musician in residence Yuliya Gorenman ticked an item off her life to-do list that she once thought was as out there as going to the moon: she completed the Gorenman Beethoven Project. Gorenman performed all 32 of Beethoven's famous piano sonatas in eight concerts over four years. She played the final three pieces, her grand finale, on March 19, 2011, in the Abramson Family Recital Hall at the Katzen Arts Center.
She has received rave reviews. The Washington Post described her as a "powerful individual with an unaffected stage presence" whose version of Beethoven "bristled with life." Fans have praised her personally after concerts, in e-mails, and on YouTube, their words kind enough to make her blush.
The sheer volume of the music is staggering. Playing the complete cycle of sonatas is an achievement matched by only a few musicians—ever.
"I don't think there is a project that is as dear to my heart as this one," she says. "It's something I wanted to do all my life. It's about being able to touch the life of a composer and trace it from the beginning, all the way through the time of maturity. That's an amazing thing."
For Gorenman, the project has been as much an intellectual exercise as a physical and emotional one.
"If you're trying to go to the root of what a composer might have wanted to say, it's almost like musical forensics," she says. "What you've got are his thoughts on the page, and you're trying to figure out what in the world he might have been thinking. You have to do a lot of research."
That's why she has read voraciously about Beethoven's life, as well as about historical events during his lifetime. "It's not possible to understand Beethoven's music without understanding the French Revolution, for example," she says. "You have to dig as deep as you can and cast your net as wide as possible."
Gorenman says she cannot possibly pick a favorite sonata because each is different from the last. Take, for example, the Hammerklavier Sonata that received such glowing reviews in the Washington Post. After her first encounter with it, she says she was put off by its strangeness and dreaded playing it.
"It's not a piece you can love from first hearing it," says Gorenman. "Throughout the process of work, though, I became obsessed with it. It was all I thought about. I slept, drank, and ate that piece. It was with me 24–7. It became one of my favorites."
The final sonatas are unique, Gorenman, says.  "There's no mistaking  them for any other pieces  in his life."
Though she has completed the Beethoven Project, Gorenman says she is not done with the sonatas. She has recorded the first three and plans to record the rest. She is also thinking about playing a series of recitals, each dedicated to a different great composer, such as Bach, Schuman, or Chopin.