Research
Archaeology Field School Featured on UNC-TV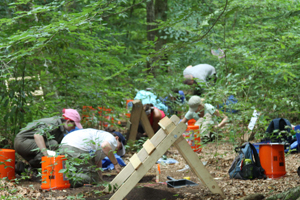 The Great Dismal Swamp Landscape Study was featured on University of North Carolina TV (UNC-TV), which is the flagship PBS station in North Carolina. The segment aired on UNC-TV's nightly public affairs program, "North Carolina Now" and broadcast across North Carolina. 
Anthropology professor Dan Sayers has been conducting research in the Great Dismal Swamp since 2001 and has led a summer archeaology field school for undergraduate and graduate students since 2008. The video gives an inside view into how research is being conducted in the vast wildlife preserve located in southeast Virginia and northeast North Carolina. 
Sayers and students are investigating the presence of indigenous Americans and maroons (African American fugitives from slavery), in the swamp's undeveloped wetlands. "European mentality, generally speaking at the time, was that places like swamps were forbidden, they were haunted," Sayers stated. This left the swamp as an ideal hiding place for those that were willing to be in the remote and dangerous location. 
This research is important because it is known that individuals moved through the swamp, though it is not known if people actually inhabited the area. Chris Lowie, the Dismal Swamp Refuge Manager, said that "George Washington was here in 1763, we know that slaves escaped and came through the swamp...but we don't know if people lived here, to what extent they lived here, and what activities [they took part in]."
Researchers are braving the heat, ticks, and snakes to find the answer. Layers of dirt are carefully looked through and any artifacts found are catalogued and preserved. Lowie hopes that these artifacts can be used to educate the public about the swamp's history in the future.