Social Sciences
Passage from India
The journey of visual anthropologist Harjant Gill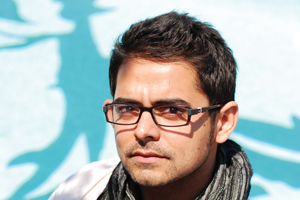 Award-winning documentary filmmaker Harjant Gill is driven by three things: India, anthropology, and film.
Fortunately, when he was an undergrad he discovered the field of visual anthropology, which gives him the opportunity to pursue all of his passions at once. As an anthropologist, Gill studies people, communities, and cultures in India. As a director, he brings them to life through film.
"Both anthropology and film provide a deeper understanding of human culture and behavior—why we do the things we do," says Gill. "But film offers another layer of understanding. Viewers can see, hear, and fully explore another culture. Audiences can see for themselves exactly what life is like for other people."
Gill, PhD anthropology '12, is an assistant professor at Towson University. Born and raised in India before moving to California when he was 14, he says that his native country continually inspires his work.
Currently he is directing the third in a trilogy of documentaries exploring gender, masculinity, and migration in contemporary India.
The Roots of Love (2011), the first film in his trilogy, grew from his doctoral research at AU and examines generational conflicts over turbans and unshorn hair among Sikhs.
A review in American Anthropologist commented on the film: "Beautifully shot and crafted, Roots of Love succeeds both cinematically and ethnographically as an engaging narrative sure to provoke discussion."
Gill's second film, Mardistan (2014)—Macholand in English—documents the experiences of four Punjabi men from different generations and backgrounds who defy traditional Indian stereotypes of masculinity.
Indian news source Firstpost calls the film "a thoughtful documentary that hopes for a brave, new Indian macho man." It will air on Doordarshan (Indian national television) and appear at film festivals in India, Canada, France, and the United States.
The final film, Sent Away Boys, examines the collapse of agriculture in India's Punjab region and the resulting exodus of young Punjabi men from rural areas to cities and abroad. Gill explores how the population shifts are affecting this generation of Indian men and their notions of masculinity.
He received production support through a postdoctoral grant from the Wenner-Gren Foundation—one of the first awards it has ever made for a film. "This signals a growing acceptance of film and visual media as a means of looking at cultural experiences," he says.
He also received a prestigious Woodrow Wilson Career Enhancement Fellowship, enabling him to take a year off from teaching to produce the film and research and write a book.
"Anthropological fieldwork takes a long period of time, but it's necessary for good documentary filmmaking," he says. "You must study the cultures and their norms before you bring in a camera to explore."
Looking back, Gill credits AU's anthropology department for being open to him trying out new things.
In particular, he thanks associate professor David Vine, his mentor and friend, who gave him the "kind of guidance students don't normally receive." He adds, "When I graduated, I said this is the kind of professor I want to be in five years."
As he moves forward with his research, teaching, writing, and filmmaking, Gill says there are more documentaries in his future. "Filmmaking comes very easily to me. It's a language I feel very comfortable with."