On Campus
3rd Annual Health Promotion Conference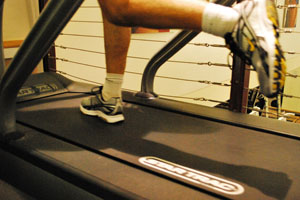 American University's School of Education, Teaching, and Health will present its third annual Health Promotion Conference on October 15 in the Butler Boardroom. Entitled "Innovations in Worksite Health," it will focus on the actions that both businesses and health care providers are taking to promote healthy living for workers.  
The conference will feature four experts from different areas of health promotion: Debra L. Dailey from Sodexo Corporate Services, Jane Mingey of Take Care Health, Richard Safeer of CareFirst BlueCross BlueShield, and Vicki Karlan of Pfizer.  
"We carefully chose people who were doing different innovations in worksite health," says Anastasia Snelling, health promotion professor and conference founder. "Each speaker will come from a different perspective but will work towards the same goal."  
In worksite health promotion, organizations help improve the health of their employees as a means of managing healthcare costs. Such examples of promoting healthy environments for workers include physical activity programs and healthy eating options in cafeterias. "The ultimate goal is to improve the health of the employee," says Snelling, "because the employer is the one who's paying for their healthcare cost."  
Snelling hopes both professionals in the health promotion field and students in the program will take advantage of the conference to meet with some of the key leaders of their profession. "Here is an opportunity to meet leading professionals to talk about job and internship opportunities and to network with people," said Snelling. "That is the bridge to their life after American University."  
Health promotion graduate students will use the proceeds from the conference to purchase Christmas gifts for a needy family living in D.C.  
Snelling formed the conference three years ago to help educate both students and professionals about health promotion. Past conferences focused on health communication and exercise sciences.  
To register, visit the calendar listing.