International
A Passion for Japan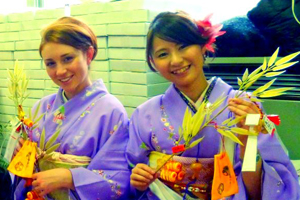 When Heather Rogers decided to spend a year studying abroad at Ritsumeikan University in Kyoto, Japan, she had no idea the extent to which she would become immersed in Japanese language, culture, and tradition. The senior, majoring in international studies with a minor in Japanese language, has had an interest in Japan from the time she began reading traditional Japanese literature translated into English in high school. "I wanted to learn Japanese so that I could really understand the literature that I was so interested in," she says.
Rogers further solidified her interest in Japanese language when she took classes in Kendo, a form of Japanese sword fighting, while still in high school. And when it came time to choose a college, the answer was clear. "Combining those experiences with my passions for international relations and traveling, AU seemed like a perfect choice for me."
Rogers has taken Japanese classes at AU from the beginning of her freshman year, working to solidify the language skills that enabled her to achieve success while studying in Japan. She specifically cites Japanese language coordinator and assistant professor Noriko Williams as being particularly influential. "She provides her students with a great deal of resources to help students when they go over to Japan," says Rogers. "She incorporates a lot of her own Japanese character study and research into her classes and provides a great language foundation for Japanese language learners."
With this strong foundation, Rogers was able to participate in Ritsumeikan's intensive Japanese language track, which challenged her to take intensive language courses alongside English courses in Asian studies and U.S.-Japan relations. "This was definitely challenging," says Rogers. "But it really helped me to strengthen my Japanese skills and build confidence with the language."
In her quest to fully experience Japan like a native, Rogers looked outside her university program. On her own, Rogers applied for a coveted position as a "fuku musume" or "temple maiden" with the centuries-old Imamiyaebisu Temple, in Osaka, Japan. The position, which attracts 2,000 to 3,000 applicants annually for only 40 positions, has girls representing the temple in the Osaka business community, selling good luck charms and giving speeches. "The girls are charged with creating a good relationship between the temple and the Osaka community," says Rogers. "I wanted to do something with traditional Japanese culture while I was in Japan, even though at the university I was looking at more modern aspects of the country."
Rogers' experience in Osaka was greatly enhanced when she entered the competition for the position with the Japanese students rather than the separate categories for exchange students. "It was a big shock when I got into a room with 500 girls and I was the only one who wasn't Japanese," she says. The fact that Japanese wasn't her first language turned out not to be a challenge, however, and Rogers was selected as one of the forty girls for the position. At a later ceremony, she was also selected as one of three winners and lead representatives of the temple, becoming the first non-Japanese person in the history of the tradition to have that honor.

As leader of the girls, Rogers spoke on their behalf and led the way in establishing good relations between the temple and the Osaka business community. Rogers was interviewed on Japanese television, marched in parades, and was even carried around on people's shoulders throughout the entire city of Osaka. "It was incredibly exciting," says Rogers. "It was a really surreal experience."

Back in the United States, Rogers is interning for the Congressional Study Group on Japan where she does research on a variety of U.S.-Japanese relations topics. In June, she will begin an internship with Kyodo News, the Japanese news network, and is also applying for the Japanese government's Monbukagakusho scholarship, which would fund her Japanese media and politics graduate study in Japan.
Rogers says that both her internship and her application for the Monbukagakusho would not have been possible without the unique experiences she's had to immerse herself in Japanese language and culture. "Between the 14 months I spent in Japan, my work with the temple, and the really intense Japanese program here," says Rogers, "I was set up to achieve these things and really pursue them confidently."