Alumni
Atom Bomb Survivor on Mission of Peace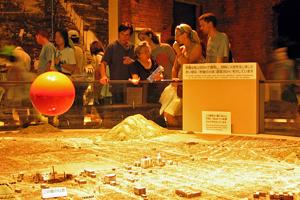 Koko Tanimoto Kondo is a petite Japanese woman. Her black-and-gray hair is neatly braided back from her face, and her hands are as animated as her eyes when she talks. When she speaks, her voice is full of emotion, befitting her mission to spread a message of peace.
Kondo, a 1969 AU alumna, is a hibakusha, a survivor of the first atomic bomb dropped in Hiroshima on August 6, 1945. Though she was only eight months old when the bomb was dropped, it shaped her childhood, from being unable to ask her parents about it because the memory was too painful, to seeing disfigured girls with fingers melted together.
"Little Koko said, 'When I grow up, I'm going to do something. I'm going to get revenge because I'm a good person,'" Kondo told an audience at AU when she visited the campus on September 17. "'If they never dropped the bomb, these girls wouldn't have suffered. I have to find the person of the Enola Gay.'"
Kondo got her wish in 1955 when her father, the Reverend Kiyoshi Tanimoto, appeared on the television show This Is Your Life with the copilot of the Enola Gay, Captain Robert Lewis. Lewis explained how he flew back to see the bomb's damage and wrote in his log, "My God, what have we done?" Kondo then realized Lewis was not the "bad guy."
"Meeting him changed my whole view," Kondo said. "I touched his hand and he held mine tightly. It was a big, warm hand."
Although Kondo forgave Lewis, the pain of Hiroshima remained. She recalled how once a year she had to visit the Atomic Bomb Casualty Commission, a U.S.-run institution in Hiroshima that studied how radiation affected the human body. There, she was asked to strip off her clothes so doctors could study her, an embarrassing experience for a teenager. After that, Kondo said she decided not to tell anyone that she was from Hiroshima and refused her father's request that she work for peace.
Kondo came to AU and studied in the College of Arts and Sciences. The first time she told someone she was from Hiroshima was in a history class, where students were arguing about the Vietnam War. Kondo said she raised her hand and said, "I am from Japan, Hiroshima. I am a survivor of the bomb." The whole class went silent.
Slowly, Kondo became more and more involved with peace movements and continuing the work her father started for peace. Now, she accompanies the AU Nuclear Studies Institute's annual study abroad trip to Hiroshima, Nagasaki, and Kyoto.
"She brings the survivor's perspective, and a personal perspective, to the trip," Peter Kuznick, director of the Nuclear Studies Institute and an AU history professor, said. "She brings the emotion of what it means to be a survivor."
Kuznick met Kondo in 1996, a year after the Nuclear Studies Institute was founded and started sending students to Japan. Kondo approached Kuznick and said she was "excited that AU was sending students to Japan to study Hiroshima," Kuznick recalled. She has accompanied them on every trip since.
"She has non-stop energy, in a good way," Kuznick said. "She's the big sister to everyone on the trip."
Alison Kootstra, a graduate student in the public history program, agreed. "She's such a bright light and adds a feeling of hope," she said.
Kootstra said she went on the Japan trip to see how museums dealt with topics surrounding the atomic bomb but ended up learning much more about the history and peace culture growing in Japan.
"The trip can be overwhelming academically, but Koko keeps you looking forward to peace instead of looking back at the past," Koostra said.
Zach Kopin, a sophomore in the College who went on the trip this past summer, said one of Kondo's main messages is that war hurts everyone.
"She's more pro-peace than anti-war," he said. "It's a different way of looking at the problem."
Kuznick said Kondo's message has a sense of urgency. "A lot of the survivors have passed away," he said. "We want students to come sooner rather than later to get that experience."
Students connecting with survivors and hearing their messages is the most important accomplishment for Kondo on the trip.
"They get to see with their own eyes and hear with their ears the survivors' messages," Kondo said. "Reading a book is important, but feeling it," she said, as she touched her heart, "is even more important."