Alumni
History PhD Analyzes Foreign Policy at Brookings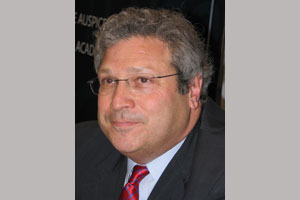 Robert Kagan, CAS/PHD '05, is an author, columnist, scholar, and expert on current U.S. foreign policy, national security, and U.S.-European relations. Although most of his analysis deals with the present, Kagan—who in September joined the Brookings Institution as a senior fellow—says that he wouldn't be able to understand foreign affairs today without knowledge of the past.
"We don't think about how much continuity there is [in our foreign policy]—not only over recent years but over the past few centuries," says Kagan. "For instance, I haven't been at all surprised to see the Obama administration moving back to doing a lot of things that the Bush administration did and to what I see as mainstream, traditional approaches to foreign policy, for better or for worse. That's pretty much the American tradition."  
As a history student at AU, Kagan explored his interests in diplomatic history and American foreign policy. He studied under former history professor Bob Beisner, who Kagan calls "one of the leading diplomatic historians in the world."
Additionally, Kagan took a critical look at other topics that enriched his research such as American social and political history, from current professors Alan Kraut and Allan Lichtman and former professors Roger Brown and Michael Kazin.  
For his dissertation, Kagan wrote an overarching history of American foreign policy. This body of work laid the foundation for his two-volume book, Dangerous Nation: America's Place in the World from its Earliest Days to the Dawn of the 20th Century. The first volume, released in 2006, received a starred review from Publisher's Weekly and the 2008 Lepgold Prize, and it was a 2007 Finalist for the Lionel Gelber Prize. Kagan is currently writing the second volume and often discusses its contents with Beisner. 
"It was awfully gracious and accommodating of the history department to accept that as my dissertation because it's not a normal kind of dissertation," says Kagan. "It's a very broad, sweeping look at American history, rather than what you normally have to do which is take a pretty narrow focus on something."  
At the Institute, Kagan is affiliated with the Center on the United States and Europe. While there, he continues to write a monthly foreign affairs column with the Washington Post and the second volume of Dangerous Nation.  
"I also write the occasional longer essay looking into what is the state of the international order in a time of change in our international system," says Kagan. "I do a lot of speaking and lecturing. I'm very grateful that I'm free to focus on the area and the kinds of things that I think are most important."  
Since obtaining his PhD, Kagan has amassed an impressive list of credentials. In addition to his monthly column for the Washington Post, he serves as contributing editor for the Weekly Standard and the New Republic. He is a former speechwriter for Secretary of State George Shultz, a member of the State Department's Office of Policy Planning, deputy for policy in the Bureau of Inter-American Affairs, and has been named one of the "Top 100 Global Thinkers" multiple times by Foreign Policy magazine.  
Dangerous Nation is by no means Kagan's first highly lauded published work. He has authored numerous other international bestsellers, including The Return of History and the End of Dreams (Knopf, 2008), A Twilight Struggle: American Power and Nicaragua, 1977-1990 (Free Press, 1996), Of Paradise and Power (Knopf, 2003), and Present Dangers: Crisis and Opportunity in American Foreign Policy (Encounter Books, June 2000).