In the Community
AU Game Lab Presents Pop-Up Video Game Arcade at Smithsonian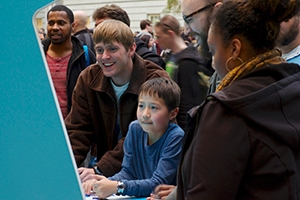 There was something for everyone at Indies in the Middle at the Smithsonian American Art Museum on December 7. The event transformed the museum's atrium into a one-day pop-up indie arcade, filled with video games of all kinds. 
More than 4,000 people of all ages stopped by to play new indie games, classic arcade games, educational games, shoot 'em up games, games for social change, virtual board games, and even meditative Zen games. 
"Visitors learned that games are more than Super Mario Brothers, Halo, and Call of Duty," said Lindsay Grace, director of the AU Game Lab and Studio and associate professor at the School of Communications. "They experienced games that experiment with emotion, affection, storytelling, history, politics, and more. The indie games we selected helped to open people's eyes to the wide variety of games being made today."  
The Indies in the Middle and the AU Game Lab and Studio 
Four organizations worked together to produce the indie arcade: the American University Game Lab, a joint venture between the College of Arts and Sciences and the School of Communication; the International Game Developer's Association (IGDA); gaming festival organizer MAGFest; and the Smithsonian American Art Museum.  
AU's prominent role in the event demonstrates the strong growth of the AU Game Lab, said Grace. "In just 15 months, the Game Lab went from an idea on paper to a key collaborator in one of the Smithsonian American Art Museum's most successful games events. Thanks to AU's institutional support, the Game Lab has become a central resource in developing the games community in the DC metro area and beyond."  
The arcade focused primarily on video games created in the mid-Atlantic area. Independent game developers from DC, Baltimore, and Philadelphia brought some of the most cutting-edge examples of their newest and most exciting work. Participants got to meet the developers, play lots of games, and even learn how to create their own games. 
"We wanted to bring attention to indie games in our region and give the public an opportunity to meet game developers in person," said Chris Totten, AU Game Lab's artist-in-residence and chair of the Washington, DC, IGDA chapter. 
"When I was growing up, games seemed to be made by mystery guys who lived far away," Totten explained. "This is no longer true, and we want the general public to meet real, local people just like them who make games. We want them to know that they can make games too—and that they can express themselves through games they create."  
Old Games, New Games, and Classes 
One of the surprises of the pop-up arcade was the wide diversity of the games created in the mid-Atlantic region. Highlights included Alum, a point-and click narrative adventure game; Dr. SpaceZoo, which lets players save animals from aliens; Lord and Ladies, an indie-produced virtual board game; Let There Be Life, a meditative game with hand-painted watercolor artwork; and, Flutterbombs, which gives users a virtual reality helmet and lets them shoot through the sky as a butterfly.  
The AU Game Lab presented several games of their own. Totten shared Dead Man's Trail, described by gaming review website VGW as "a truly innovative approach to the zombie apocalypse by combining Oregon Trail-inspired travel gameplay with Diablo-style dungeon crawling." Arcade participants also lined up to play Grace's Big Huggin' game, which challenged users to hug a giant teddy bear to help the on-screen bear get past various obstacles. 
Totten and Grace said that the arcade showed the public that video games aren't just for entertainment anymore. Many are educational, and they can change the way people think about social and political movements and events. "Participants played social impact games, designed to change the way we understand topics as diverse as immigration or the culture of native Alaskans," said Grace.  
At the same time, participants could play plenty of classic arcade games like Asteroids, Pac-Man, Tron, Star Wars, Donkey Kong, Nintendo's Duck Hunt, and more. Also throughout the day, the Hirshhorn Museum's ArtLab+ presented workshops for children and adults on making their own simple video games and 3D characters.
Video Games: A Growing Part of American Culture 
This is not the first time that video games have been featured at the Smithsonian American Art Museum. The indie arcade follows the success of the museum's 2012 Art of Video Games exhibition. The exhibit, which celebrated video games as an art form, broke attendance records and is still traveling to other museums across the nation.  
The Smithsonian first approached Totten and the AU Game Lab to help in developing educational programming for its current Watch This! New Directions in the Art of the Moving Image exhibition, which features multimedia digital art. From there, the idea for a pop-up arcade grew into reality, as Totten worked to get the mid-Atlantic IGDA chapters involved. 
"The support by the Smithsonian American Art Museum demonstrates an institutional acceptance of the creative efforts in game-making as art," said Grace. "Games are being recognized as more than mere entertainment, but as an expressive, culturally relevant medium. Games, in all their forms, are overcoming the same hurdles as other popular forms of media. Like various forms of music (e.g. rock, rap, or techno), games are emerging from the niche of geek culture to integral elements of everyday life." 
The Future: More Pop-Ups, More Collaboration 
Totten said that the arcade's success laid the groundwork for future collaborations with the Smithsonian and other museums. Grace added that the Game Lab is already thinking about planning a similar event for 2015. "Visitors can expect more of what made this year great, and some new elements that provide a national perspective on the creative efforts of game makers across the nation."