Arts
Celebrating John Cage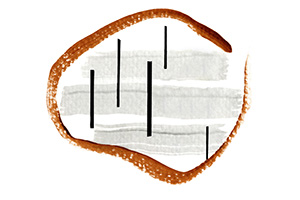 To celebrate the work of John Cage, one of contemporary music's most influential—and controversial—composers, AU's College of Arts and Sciences is partnering with institutions such as the National Gallery of Art, the French Embassy, the Phillips Collection, the Smithsonian Freer Gallery of Art, and the Hirshhorn Museum and Sculpture Garden in hosting the nation's premier Cage centennial event.
That so many prestigious museums, in addition to other arts organizations, are joining AU to celebrate a composer is no accident. Cage, who also wrote poetry and collaborated with choreographer Merce Cunningham, was a renowned visual artist. An exhibit of five of his large watercolors and other art, as well as videos of performances of his compositions, opens September 1 at AU's Katzen Arts Center and runs through October 21.
"John Cage is a titanic figure in the world of art, music, and culture," says CAS dean Peter Starr. "The fact that AU is a major partner in this retrospective of his career is a testament to our place in the arts in the nation's capital."
The John Cage Centennial Festival, which officially opens September 4, will feature performances of his unique and often provocative compositions, lectures by noted Cage experts such as Pulitzer Prize–winning composer Roger Reynolds ("Cage and Zen"), visual art and dance, as well as a performance of Cage's radio play James Joyce, Marcel Duchamp, Erik Satie: An Alphabet.
Cage Events at AU

Beginning with the September 1 exhibit of visual art works, including archive items that have never been displayed, AU will feature a fascinating variety of Cage events.
On Sunday, September 2, Nancy Jo Snider, director of CAS's music program and the university's representative for the festival, and William Brent of CAS's Department of Performing Arts will be joined by percussion event performers to present "[In] Cage: A Discussion and Performance of John Cage's Works." The lecture starts at 2 p.m. in the Katzen Studio Theatre. Reynolds will also give a gallery talk from 4 to 5:30 p.m. on Cage's art work on exhibit at AU's museum.
Friday, September 7, offers a full day of Cage events, leading up to a 7:30 p.m. concert in the Abramson Family Recital Hall. Tickets for that event, featuring such works as Tribute, Third Construction, Living Room Music, and Imaginary Landscape Nos. 1-3, are $10 regular admission, $5 AU students.
The concert will also feature tribute works by Ryan Bridge and Tamzin Elliott.
Following the concert, at 9:30 p.m., a second gallery event and reception will feature performances by Percussion Group Cincinnati (PGC) and red fish blue fish. Also performing will be CAS's Brent, who played a key role in organizing the event.
Leading up to the concert is a full complement of free events, starting with a 4 p.m. lecture on Cage's work by Thomas Delio, author of The Amores of John Cage. Other free Friday performances include:


5 p.m. in the Katzen Arts Center Rotunda: "Solo for Voice No. 15," from Songbooks
5:30 p.m. in the Katzen Arts Center Studio Theatre: "51'15.657" for a Speaking Percussionist"
6:30 p.m. in the American University Museum: "WGBH-TV for Nam June Paik," "Cartridge Music: Duet for Cymbal," "Child of Tree (Improvisation I)," "Branches," and "One4."


In addition, on Saturday, September 8, there will be a percussion workshop with Allen Otte of Percussion Group Cincinnati and Steven Schick of red fish blue fish. Registration is at 9 a.m.


The Sounds of Silence

Cage, the son of an inventor, was born September 5, 1912, in Los Angeles and died just shy of his 80th birthday. He came to embrace chance in composing his works, turning to sources such as the I Ching. Despite his unorthodox methods, he was a serious, disciplined artist who never relied on gimmicks, says the Department of Performing Arts' Snider.
The composer's most famous work, 4'33", is perhaps his most controversial. The piece is silence framed only by its title and the ambient noise of the performance space, perhaps the aural analog of Rauschenberg's "White Paintings," works Cage praised.
"It is not intended to mock the listener but, rather, to allow the listener to hear the music in the sounds of everyday life," Snider says of 4'33". "In this way, Cage was, as many artists throughout time have aspired to do, trying to attain the random sophistication and perfect symmetry of nature."
Other Cage festival sponsors are the Kreeger Museum; the University of California, Washington Center; the Library of Congress; and the Corcoran Gallery of Art. To see a full schedule of Cage events, including information on tickets and locations, visit the John Cage Centennial Festival site.